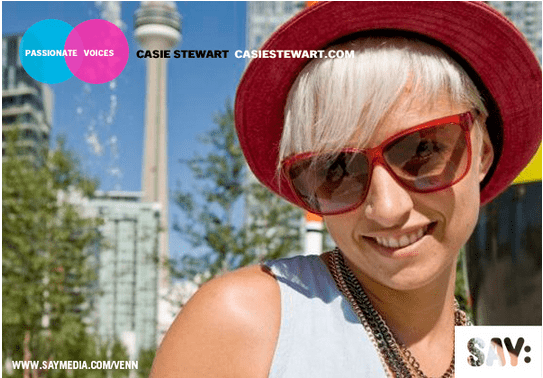 Here's an excerpt from a recent interview I did for SAY Media's blog 'SAY DAILY'. SAY is an awesome company out of San Francisco that works with "passionate voices" like me to to pair us up with brands and stuff. They publish cute venn diagrams each Friday.
Your blog is called Casie Stewart: This Is My Life – in 140 characters or less, what is your life? Lots of hard work & dedication turning my dreams a reality. Celebrating life's moments and making the most of each day. Awesome!

You're a social media expert in Canada – what are some of your social media secrets for the rest of us? Life is about building relationships and so is social media.  If you want to grow your audience, have conversations about other things than 'just' your business. You'll make more friends that way.

Start a blog! A blog is the home for everything you do online. Use Disqus commenting so that Twitter & Facebook are integrated within your commenting system.
Read the rest of the interview here.
Some of their other voices are Tavi Genvison, Seth Godin, and The Sartorialist. Check out interviews with Honestly WTF fashion babe Leah Chernikoff.  The HTC campaign I was in last year was with SAY and so are the fancy advertisements in my sidebar.
In December we went to the their holiday party in Toronto and guess who was in their signage?! Me! I was totally surprised. I know Mum would have loved to see it. Next stop, billboard then broadway! Ok, no broadway but billboard has a nice ring to it.
Stay warm out there!!