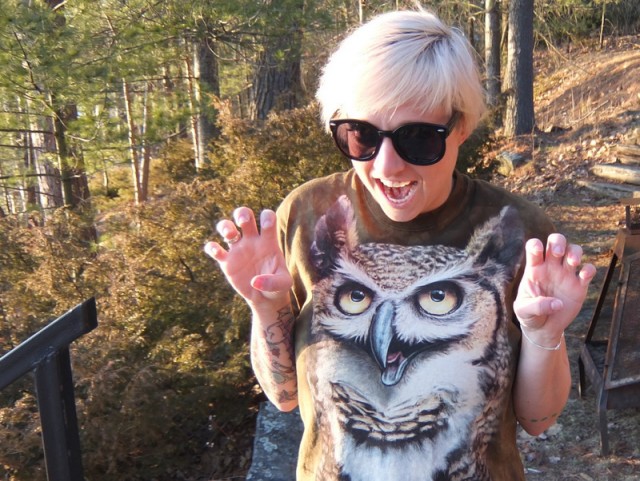 It's Earth Day! Today, more than usual, we give attention and praise to our cool green & blue planet!  I am so freaking happy the weather is finally getting warm. I try to trick myself into thinking if doesn't bother me but, it's almost MAY and cold. I was born May 8th and I prefer it to be hot by then. (THAT IS A HINT)
This weekend, I was lucky to be up  north opening the cottage. Took some photos with my new Fuju XF1 and wore my BIG FACE GREAT HORNED OWL from The Mountain. I was sent it as a gift just in time for Earth Day. So great. WHOOOOOO is the coolest? Get it? Urgh, clearly I am not cool or funny. I also have the Boston Terrier but I'm saving that one, for a special occasion.
A typical day at work at The Mountain twitter.com/TheMountainTee…

— The Mountain Tees (@TheMountainTees) March 14, 2013
The Mountain seems like a pretty fun company (see tweet above if you did not already see tweet above). The Mountain produces tees made in the U.S. with water based inks and PVC-free operations and even invented a new dye oxidation system that cleans their dye waste water without the use of any chemicals.
My friend Kenny at work has a couple, so when they emailed me I was totally into it. I want more friends to have them so we can be a wild kingdom. Mine is Youth XL for $14. If you are my friend and your birthday is coming you might get one.
I was laying on my yoga mat in the sun staring up at this tree. It looked pretty and different colours in the sun.
After a relaxing weekend staring at trees, sky, lake, and sunshine, it was time for me to fly home on my broom. Here's to a positive and productive week of awesome. I put in the request for lots of sunshine. Happy Earth day!