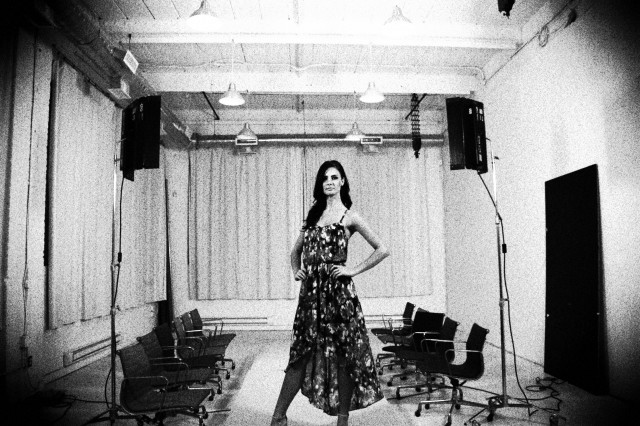 I recently met up with the Canadian Canon Ambassadors for a professional photo session with Steve Carty (you've seen him here on the blog before!). I'm really getting the hang of using my DSLR! It may sound silly but it took me a while to get shutter speed and aperture.
In this session we learned how to shoot moving subjects on the runway, portraits, and about the built in filters on our cameras. To be honest, I discovered the filters in my Canon Rebel SL1 right away! I've been using Canon since I got my first digital camera pre-blog back in 2004 and I've always loved the creative filters. [Way to be ahead of Instagram guys!]
A Word About Fashion GIFs
I really love GIFs as you know. I took all these photos the night of our fashion photography session with Carty and made them into GIFS to see the differences with using the Canon filters. Please note, photo quality was drastically reduced when I put these together. I need a photoshop session before I learn to make high quality GIFs! I think they're fun. I love when designers and bloggers put out GIFs from runway shows so I wanted to test my skills.
Scroll down for some tips from Carty and Canon!

1. Try Canon's Creative Filters
Canon's Creative Filters can be applied both before and after shooting and can take a photo from average to spectacular
You can also stack the filters and create your own unique combinations like Miniature Effect + Soft Focus or Toy Camera + Grainy B&W (The order that you apply the filters also makes a difference in the final output!)
If you've snapped a photo that seems unsalvageable, try out some Creative Filters and see how it changes it image – you might find an unremarkable picture has been saved!
2. Shoot on the step
To capture the most natural looking fashion photos, shoot when the model touches his/her foot down on the runway, not mid-step
This elongates the body and will make a real difference in the photos
Shoot vertically to see the whole model, if you shoot horizontally, remember where the magazine "gutter" would be in your image and ensure your subject isn't "in the gutter" (middle of the frame)
3. Focus on the details
If you're unable to get a successful full body shot, look for detail opportunities
Focus on the shoes, a belt or a collar
4. Having a hard time shooting all white or all black outfits?
Focus on an area of contrast, like a strap, a shoulder or the neckline
Consider using AI SERVO AF focus tracking mode. In this mode – the focus continuously adjusts based on the motion of your subject as long as you hold down the shutter button halfway.
5. Stand back
Even though most of us want to be in the front row, it's not always the ideal shooting location
Sit or stand a bit further back so you can show more scope
Arrive early to get the best shooting locations
6. Shoot in both JPEG and RAW
JPEGs are great for uploading quickly to the web, but when you want to edit the file they can lose quality
RAW files can be edited again and again while staying crisp and clear
When shooting continuously with RAW files the number of shots in a burst is significantly reduced – switch to JPEG if you need more images in a burst
7. Don't delete!
If your memory card is big enough you don't need to delete files on the fly
You don't have time to delete photos during a fashion show, so shoot as much as possible and edit later – bad photos can be fixed in post-production
8. Focus Tricks
If you are having trouble with focus, focus on a spot on the runway where the model steps mid-stride by pressing the shutter button halfway down and listening for the beep. After you hear the beep, flip the AF switch on the side of the lens to MF
Wait for the model to walk to the point you where pre-focused on the runway – and take your picture.
Big thanks for Canon, Carty, and our model Tiffany. I learned heaps and I'm stoked to shoot this week. I've actually never been so excited for Toronto's Fashion Week. Show invites started rolling in today and I've got a full calendar from Monday to Friday.
It's my first time (after five years) shooting with a real camera. I'm excited to share it all with you!
Buy Clomid no prescription
Buy Flomax no prescription
Buy Fluoxetine no prescription