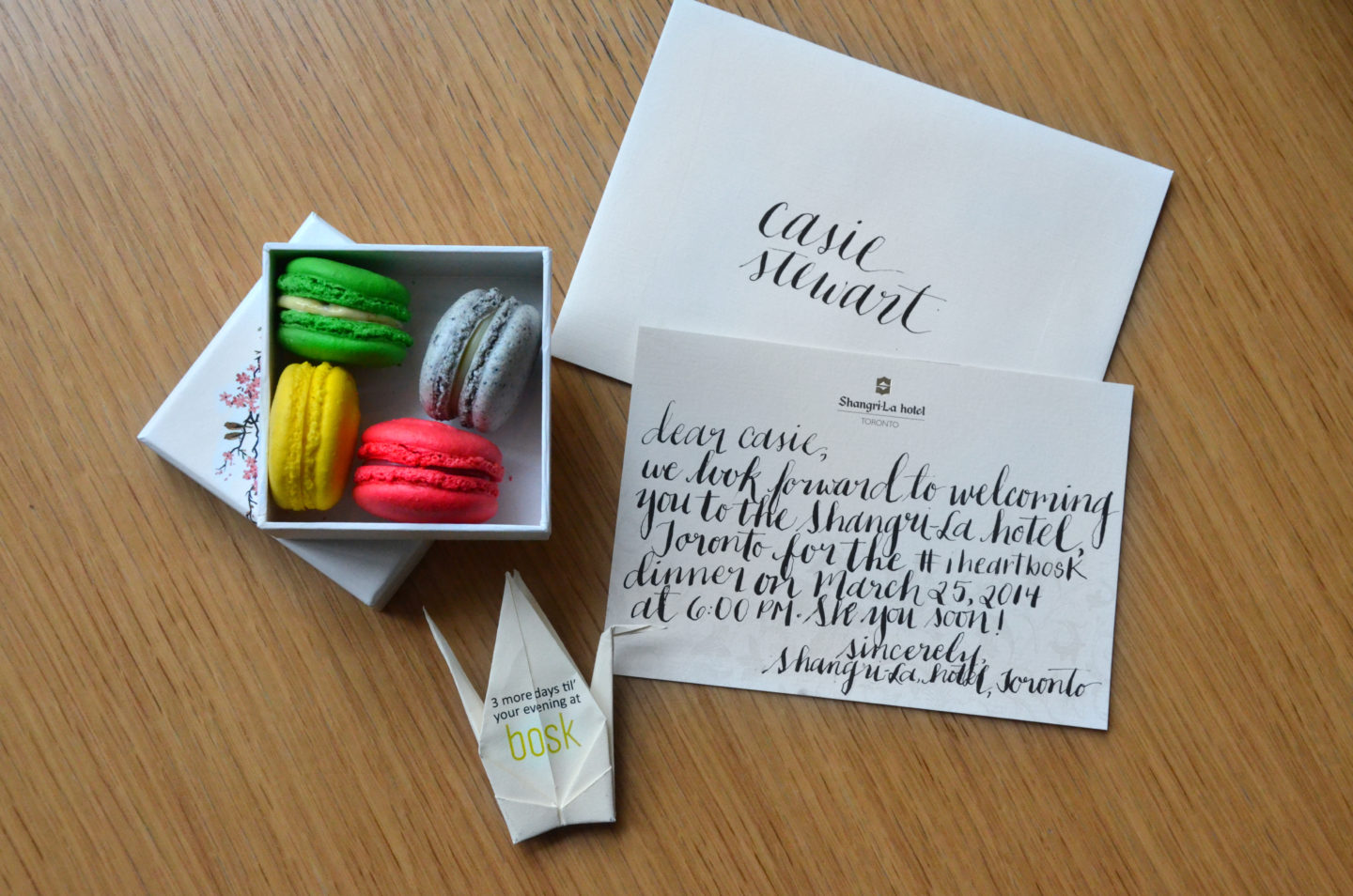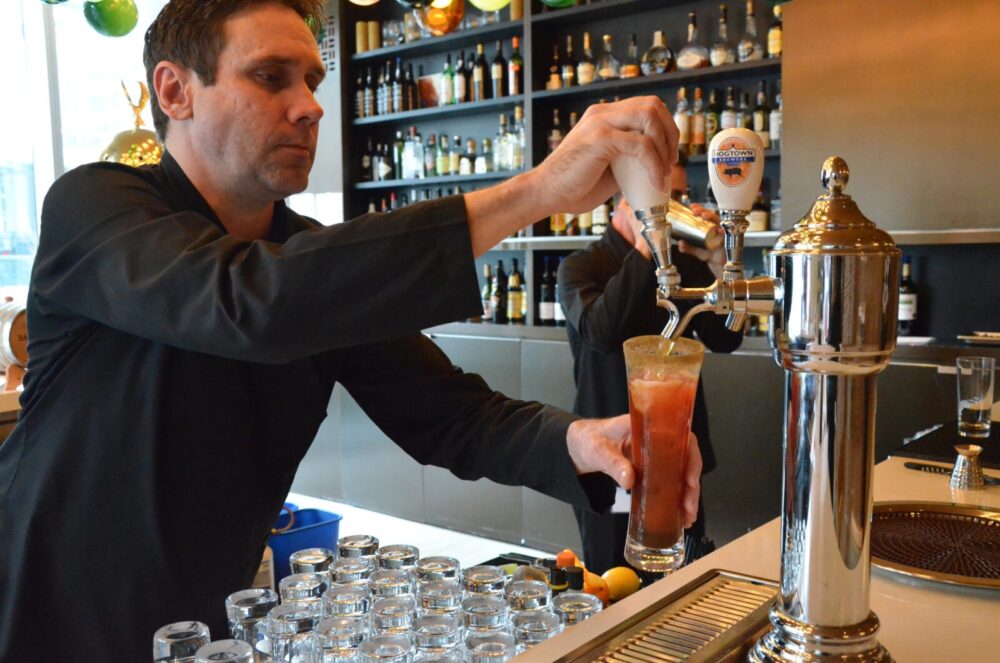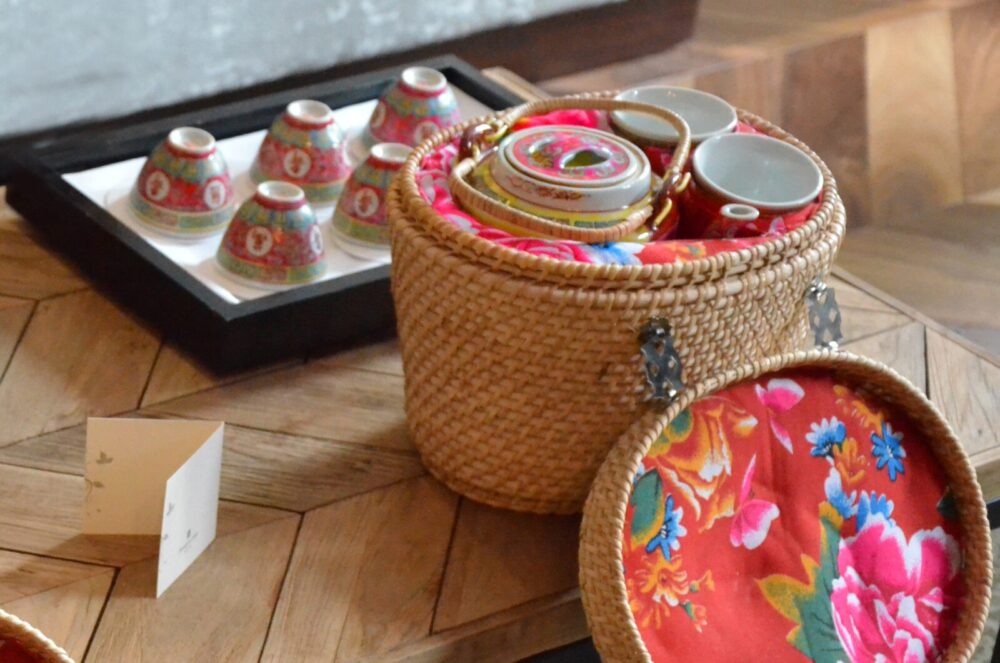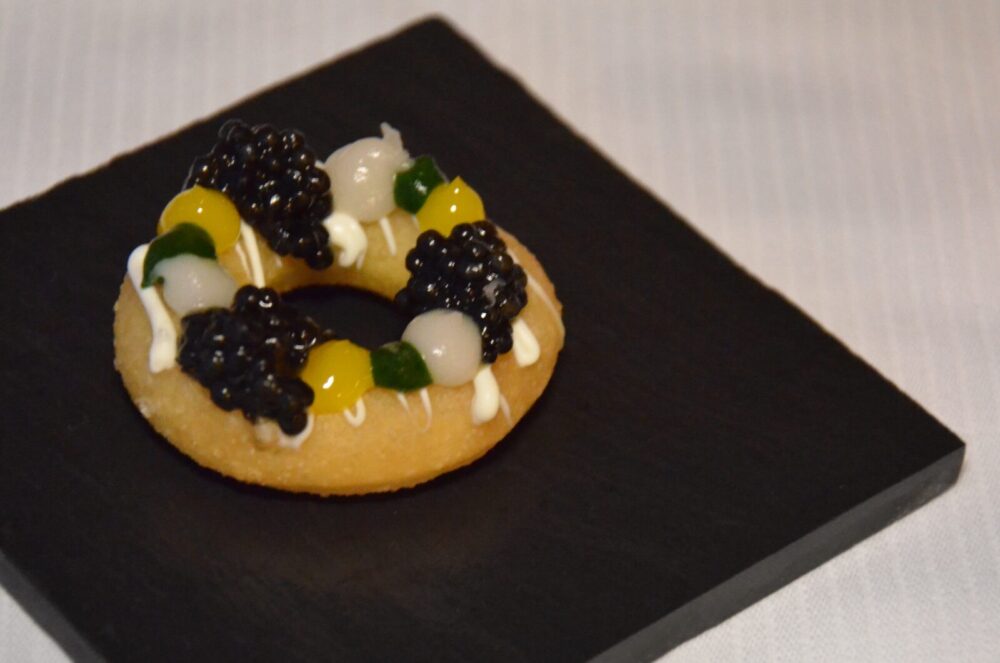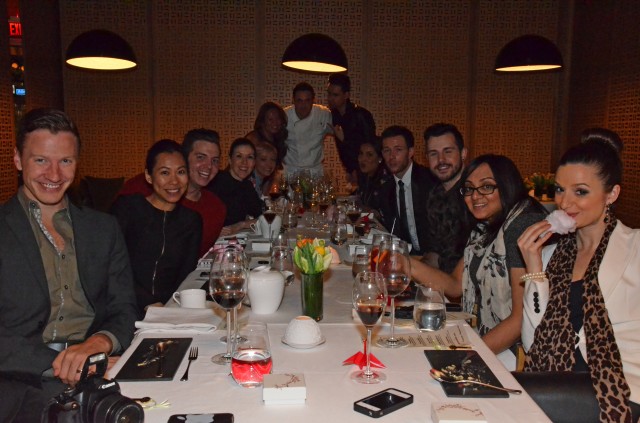 One week ago I had the great pleasure of dining with a bunch of friends/media darlings at Bosk, the restaurant in Toronto's Shangri-La Hotel. The food was fantastic, I had a bit too much wine, and heaps of laughs. Major thanks to Shangri-La and Daniel from dothedaniel.com for organizing this special event. We also ran a contest for our followers to win a high tea experience. The winner was Victoria Ess who had over 200 retweets.
A few days before dinner I received this darling little delivery with a written note, macaroons, and paper crane. I love when brands, media, bloggers take that little extra step to make you feel special.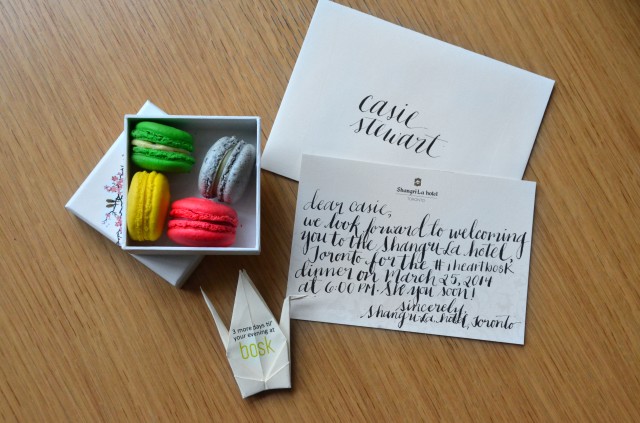 We had set seats and red paper cranes displayed our names along with the customized menu for the night. Each menu item was paired with wine to accentuate the flavour.  We tried several new items added for spring and a few Bosk classics.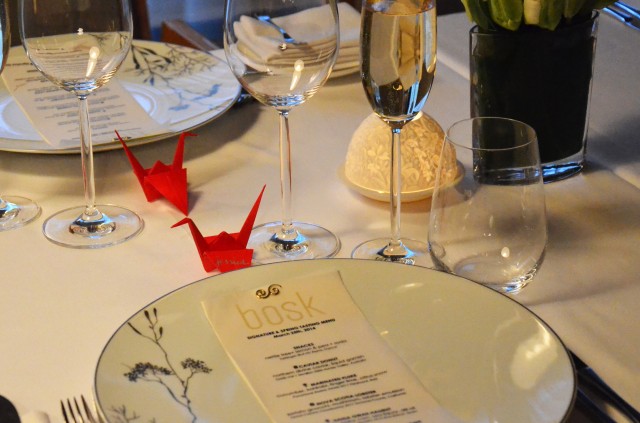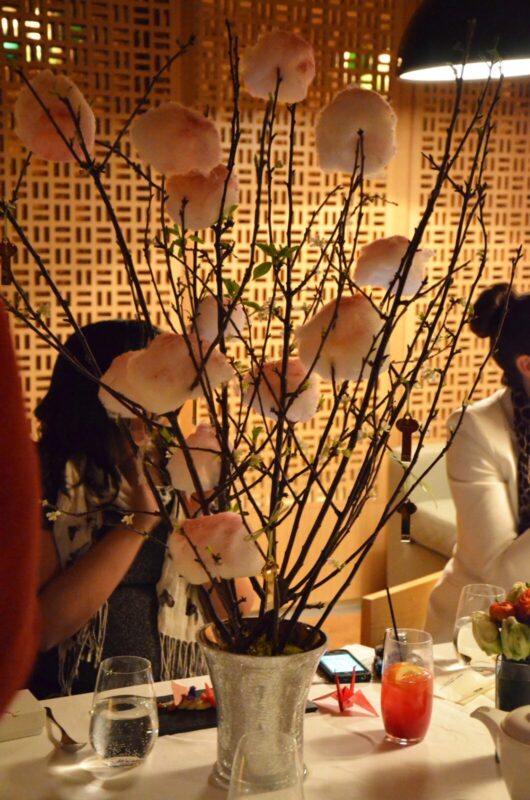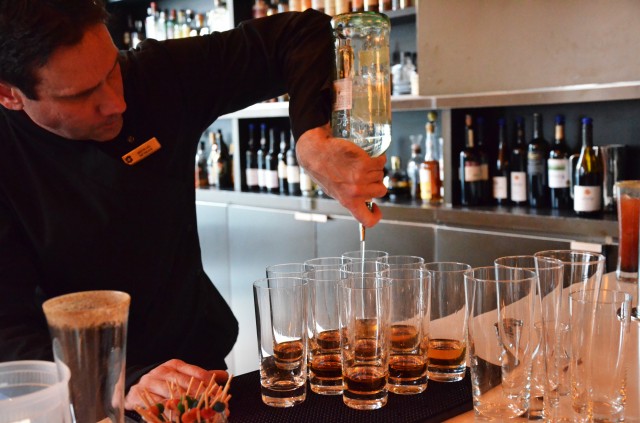 Before sitting down to eat we got a tour of the magical Garden Suite and took in the high tea experience. I could have stayed there for the night! It was so fabulous and huge. The bed, I can't even.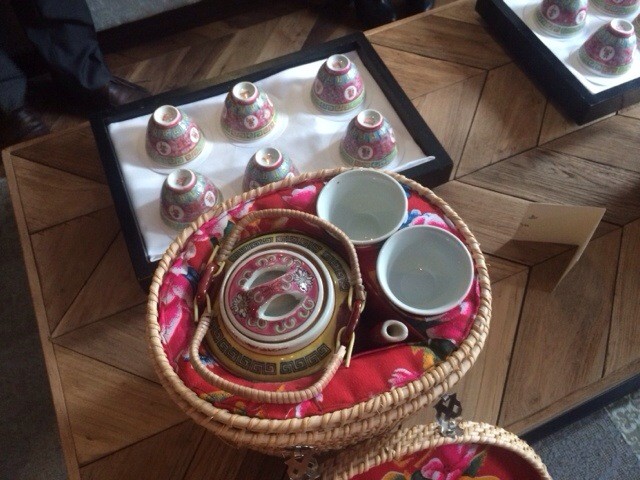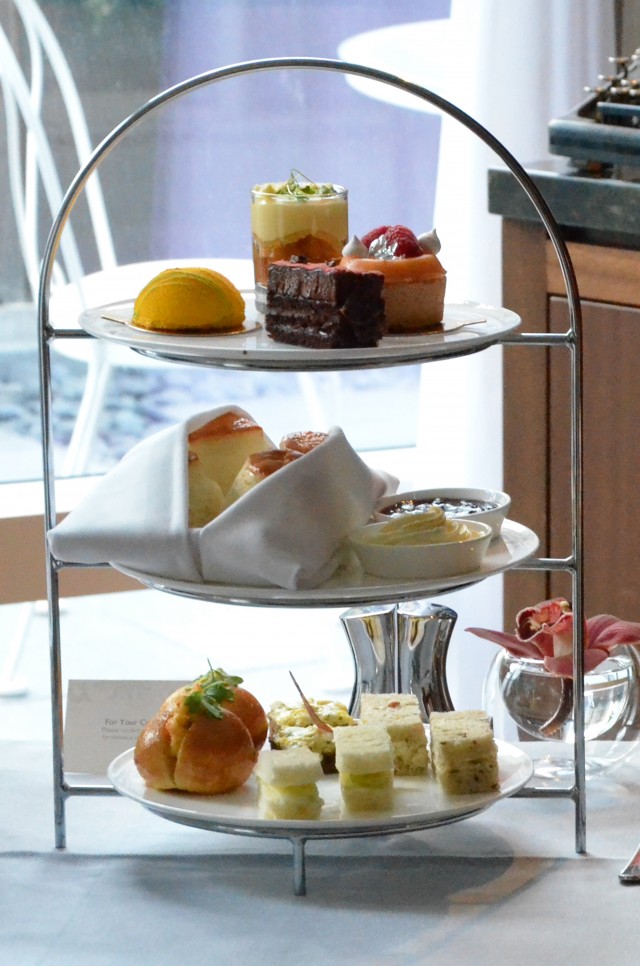 Dear Diary, I'm at the @shangrilaTO in the Garden Suite, having tea. #iheartbosk https://t.co/4mtyTYT3Q1

— CASIE STEWART (@casiestewart) March 25, 2014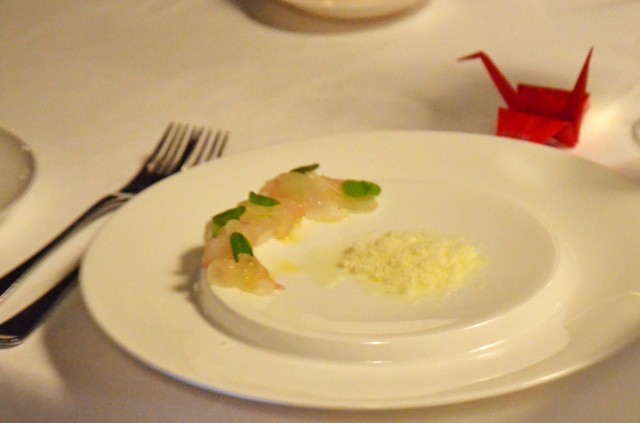 Two menu items I loved were the Marinated Fluke and Nova Scotia Lobster ravioli.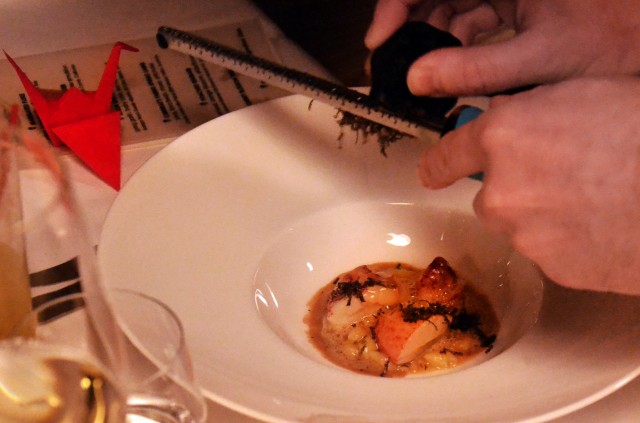 Halibut roll, WHAT?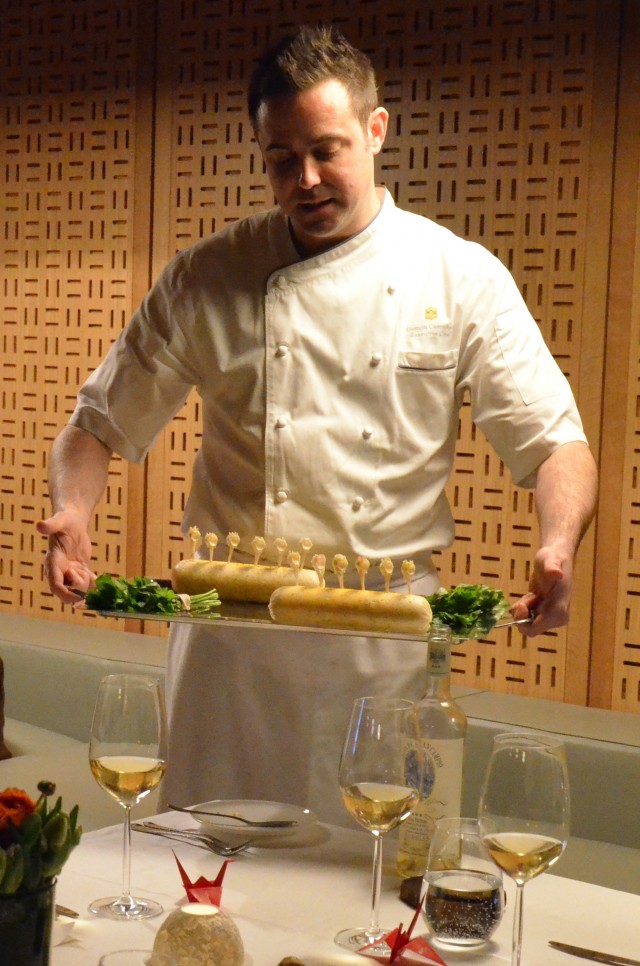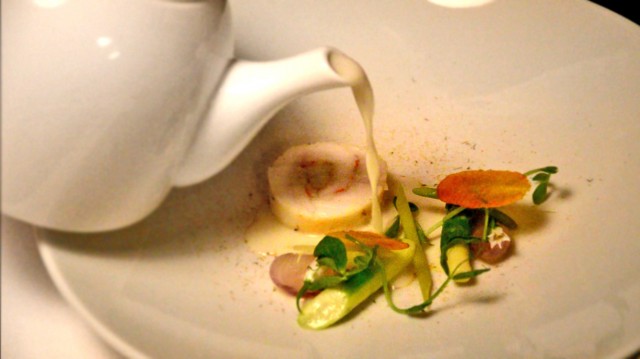 We finished the dinner with a Cherry Blossom Cotton Candy tree that had a USB key for each of us. The cherry cotton candy was NOT like that cheap stuff from the CNE, it was delicious.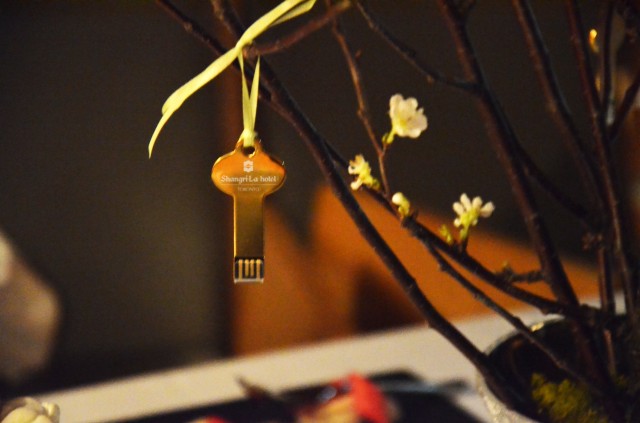 Red chocolate lipstick, yummm! Thanks @ShangriLaTO @boskTO for an amazing dinner experience tonight! #iheartbosk pic.twitter.com/oFhYc6je6E

— CASIE STEWART (@casiestewart) March 26, 2014
I wish I had a longer arm! #iheartbosk dinner crew. Thanks @dothedaniel! #selie! #imaboskpic.twitter.com/A2nmX1bMfh

— CASIE STEWART (@casiestewart) March 26, 2014
Huge thanks again to Daniel for organizing the dinner and bringing us together. I'm looking forward to taking Sean there for a dinner date soon! I want that lobster ravioli again!
<3 CASIE