And that meaning is awesome. I've mentioned it before and the message is always the same, #loserkaraoke is a damn good time.
This is me & Kristen singing 'How Bizarre', Team New Zealand in full force. I was rappin' in full accent. Pretty good summer song if you ask me.
I love walking into Tequila Sunrise and being greeted by friends and familiar faces having fun. The party was inside & outside last night as the place was packed and it was really hot out. Speaking of, look at this stud in mama's cape…
I was a weeee bit tipsy after the King St. Crawl earlier and after a few beerski's was more than happy when Michael offered to drive me home. Ha!
It's so neat that each week all kinds of twitter peeps show up to have a good time. If something comes up on a Thursday night, I seriously consider if I should miss #loserkaraoke or not. I was never really a big 'karaoke' person but y'know what, I really love it now.
I don't care if it makes me a loser, because I've got a whole group of people who are are most awesome losers ever. We will sing our hearts out week after week and if you come too, you will love it. Karaoke is GREAT!
You might also love that I wore a Wonder Woman outfit last night. Just for fun. Alas, back in the office today, Ms.  Casie Kent.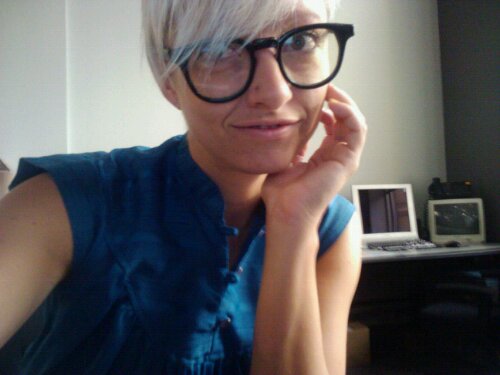 BTW, I love this ad. Online, on line. I wanna be online like that, online at the beach under a sun umbrella with my laptop, working., drinking a cold beer.  Ahhh, a girl can dream can't she! Happy Friday everyone.