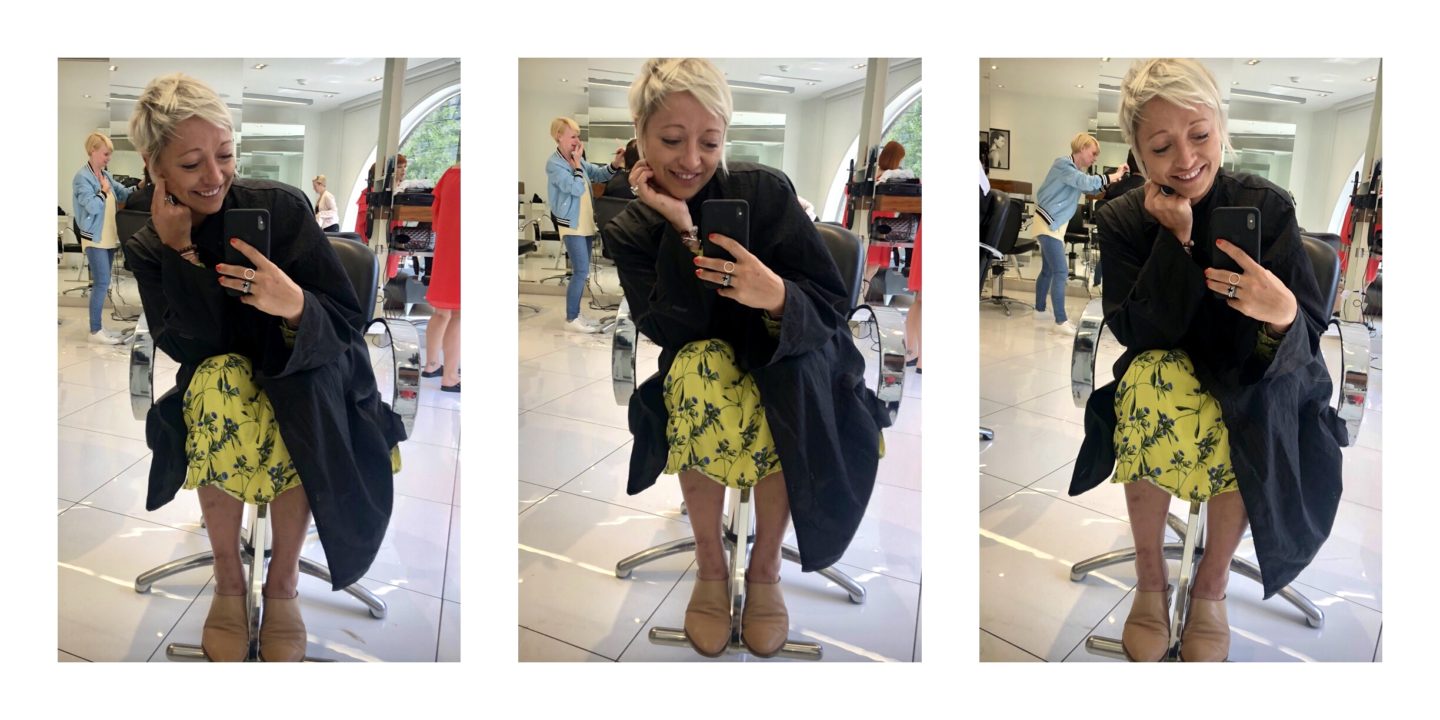 Last week I stopped by Sassoon Toronto for my regular trim. My hair is lower maintenance since I opted for highlights last month instead of full bleach & tone. I really like what's going on with my two-tone hair, it's still blonde, has some texture, and is my natural colour at the back.
For my touch-up cuts in between colour, I've been seeing Tricia for a quick trim. She usually does a few snips while the hair is wet, then does scissor-over-comb (SOC) while my hair is dry to finish off the look. It's amazing how a quick trim makes you feel so refreshed!
I love summer and wedding season is the perfect chance to get all dolled up. I would wear this dress to every wedding this summer, it makes me feel great and always gets compliments. It's my 'feel good' dress of Summer 2018! I chatted with Tricia about the perfect summer wedding hair and got a few tips from Sassoon Salon's creative directors Lorraine McAndrew and Wesley Hanlon.
Keep it fresh
Tricia's reco is to get a fresh haircut/trim/colour touch-up one week before the big day. If you have short hair like me, opt for a blow-dry on the day of. A professional just has the magic touch to give your hair some OOMPH.
Hot Tip: For added shine ask for a personalized in-salon Kerastase Fusio-Dose treatment.
"Shine is key for ensuring your hair looks healthy from every angle,"
– Lorraine McAndrew, Sassoon Salon senior creative director
Styling Requirements
If you're going for a braid or pretty up-do, your hair should be clean, but DO NOT wash it the day of the event. Wash the night before to keep your hair's natural oils intact, you'll be able to count those curls, waves, or up-dos holding better and looking great in photos.
Less is more
Want to look modern and elegant? Keep it simple, don't over style!
Wedding Day Tool Kit
I always carry a small bag with a few beauty must-haves for big events or a wedding. I love Dior or Mac lipstick, Hello Flawless Powder by Benefit, bobby pins, and tiny rubber elastics. If you're rocking a fancy hairstyle that took some work, pop Sebastian Shaper Plus mini hairspray in your bag.
SIDE NOTE – The team at Sassoon Salon are so great. I've been going there for almost 2 years now and I look forward to every visit. I spend half the time laughing and talking like we're old friends. If you're looking for a new look or someone to really take care of your hair, I highly recommend making an appointment.
---
Hope you had an amazing weekend. Here's to a great week!
Sending you Sunshine!