It's been years since I've had my hair long as it is right now. I can't remember the last time I was able to put my hair up in a pony, do french braids, or pop in extensions. I love it! It's so fun to be able to play around with barrettes and accessories to change my look. At the start of summer, I stopped into Sassoon Toronto to brighten up my blonde and trim my little bob.
---
LET'S COLOUR
In this post, I'm breaking down some of the different colour options you can get at Sassoon and what they mean.
I use to do all-over colour (blonde) but in effort to grow my hair longer and healthier, I've switched to highlights. They're
BALAYAGE
This popular technique is pretty low maintenance if you're looking for a look that doesn't need a lot of upkeep. At Sassoon, they mix freehand painting with foiled highlights meaning you can have a natural sun-kissed look or something more dramatic.
Commitment: 2-3 Months
Great For: Creating soft, sun-kissed hair that is natural-looking, wearable, versatile
TWO TONE
I love this look and it is VERY Sassoon. This technique uses darker tones underneath laters of lighter colors to create depth and tone. It's a bit more of a commitment than balayage but so stylish! It really accentuates a haircut like this one I had a couple of years ago.
Commitment: 6-8 Weeks
Great For: Adding depth and tone to an amazing cut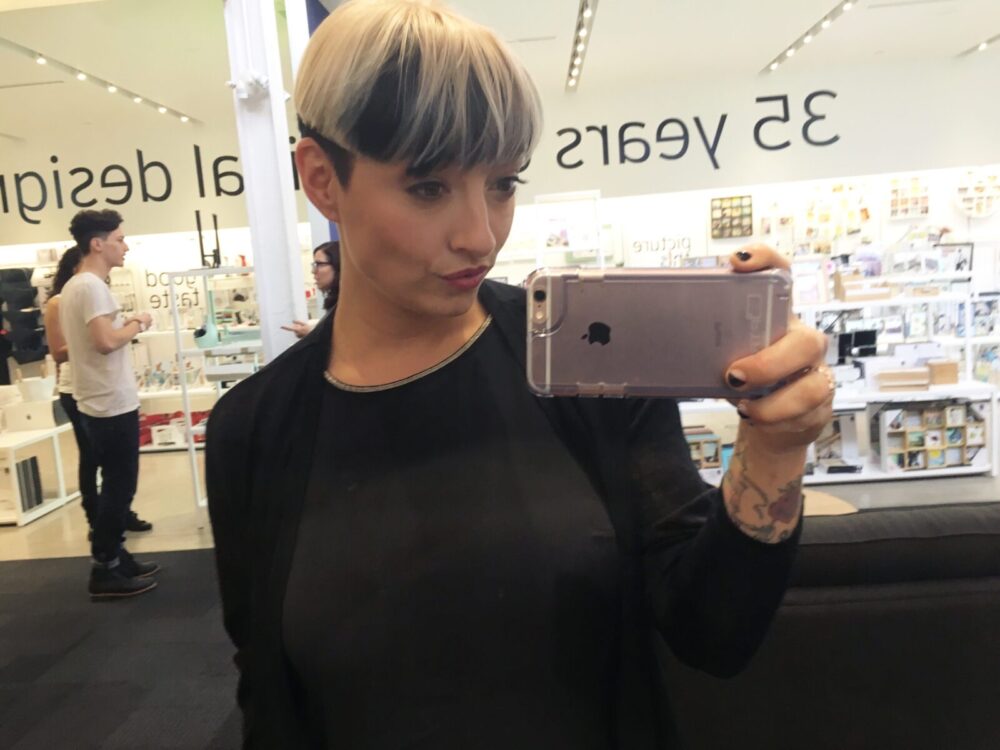 FACE FRAMING
Face frames blend into your natural colour accentuating your face and can be a variety of colours. This helps to illuminate your look and brighten your face without a big commitment.
Commitment: 2-3 Months
Good For: Introducing colour to your look
HIGHLIGHTS
Chances are you have probably had highlights in your life. if you're like me and were in high school in the 2000's you might have done the old cap/pull-through method as a teenager. Don't try this now! Sassoon offers highlights and lowlights to either and some lights bits to darker hair or a few dark slices for depth and dimension. Highlights are great for hiding grey or if you're moving away from all-over colour (like me).
Commitment: 2-3 Months
Great For: Enhancing natural colour, adding contrast, works on any hair length
I think the most important things when it comes to your hair is finding what makes you happy. For me, my hair has always been a big part of defining my style and personality. I love working with Sassoon, they know who I am and how important my hair is to my look. I've learned over the years that a bright blonde is best and if I stray from that, I won't be happy. Trust me!

BOOK A COLOUR CONSULTATION
Sassoon Toronto is happy to work with you to find a new style or enhance your current look with a cut and/or colour. I have my colour done by Kim, a wizard with blonde and cut by Tricia, the salon manager.
If you're looking for a new look, they're often looking for hair models for the Sassoon Academy or give the salon a ring at (416) 920-1333.