I can hardly believe it's almost TIFF! It feels like we were just in France for Cannes! After our trip to France, I was so incredibly tired, I'd spent most of May traveling or at conferences. I posted a few photos in this Telus post about our Cannes adventure but I wanted to share more about the experience so I don't forget anything. It was a really cool experience!
From the moment I saw the red carpet and Cannes main building I was in awe. I've been watching celebrities grace that carpet my whole adult life! When I picked up my badge, I had this moment of "omg, we're really doing this!". I was there in charge of content for The Holy City, a film co-produced by Sean's company, Occupied VR.
I loved walking the streets and people watching. Cannes is full of character with old cobble streets, beautiful beaches, a merry go round on the main strip, huge yachts lining the harbor, and bustling patios lining the sidewalks. I was happy to learn there are multiple Zara stores in case you have a wardrobe emergency and a tuxedo rental place if you need one a hurry.

A couple of my fav moments were walking out to paparazzi behind Elton John, walking past Chloë Sevigny, and seeing Tilda Swinton sauntering down the street in a gorgeous muumuu. She was stunning!
Each day we walked or took an Uber down to the festival building. In order to get inside, we had to pass security including bag search and badge check. We spent most our time on the first floor of the building in the XR Hub, on the film sales floor, or at the international pavilions.

The Holy City premiere was on the 2nd day of our trip so the rest of the time was showing it to industry people, doing demos, and taking meetings. I was in charge of social for the film so I spent a lot of time walking around documenting. Totally in my element!

The Canada Pavillion was just outside the main building and a good spot to take a break, get a coffee, sit on the beach, or charge my phone. They hosted a mixer on one of the nights, it was great to see some other Canadians in film.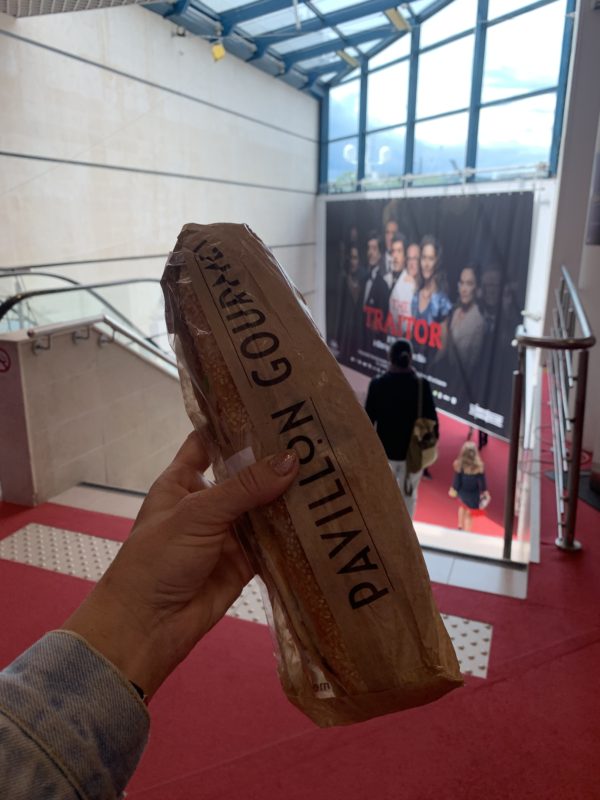 I ate a lot of baguettes in the first few days. ? After the novelty wore off, I was determined to find other options with less bread and butter lol. I imagine it might be a bit tough in France if you are vegan or vegetarian, lots of meat, cheese, and dairy.
We rented an Airbnb about a 15min walk from the main strip. It was a cute listing and had all the amenities we needed including a pull-out couch in the living room. That's where I slept we had a big night our because I snore and move around a lot haha.
Our place was the top floor od the building with a huge terrace. It was a nice place to come back to in between long days of being at the festival and then going out at night.

We had a couple fun nights out! Similar to TIFF, there's big parties by production companies or film studios and a lot of premiere parties. We attended the party for a film that was up for the Palme d'Or (Portrait of a Girl on Fire) after meeting the costume team at a bar on the street. So fun! One of the other hot spots was Petite Majestic, a small dive bar that took over the street when it got late with all kinds of people drinking and talking loudly. It was my fav place!
Sean and the guys went to a couple of big premieres. Getting tickets when you have a pass was kind of like a lottery were you requested admission from the login portal. It was so Sean to see him all dressed up. What a babe!
I stated home and ordered Uber eats including BEER. I love France. Europe is amazing. Maybe one day we will have this in Canada? He did check my ID before handing over the goods from his motorbike.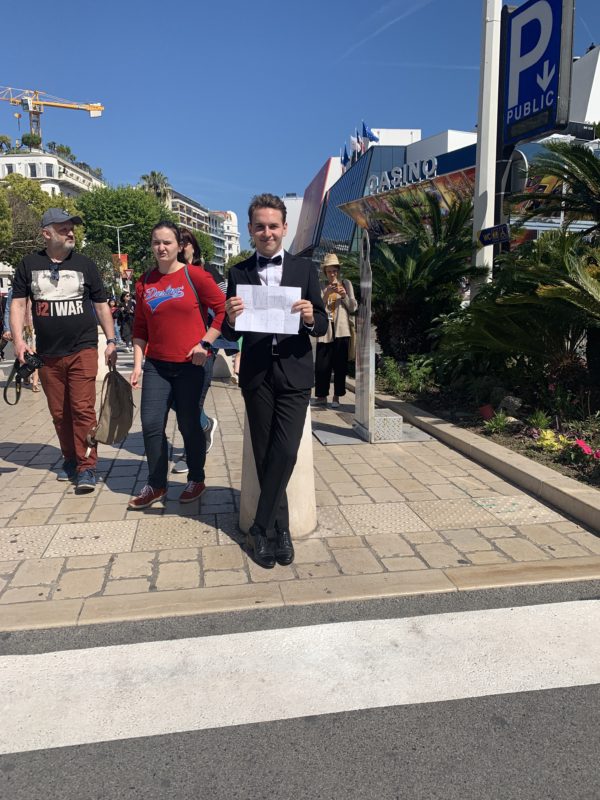 People were dressed up at all times of the day, there were tuxedos everywhere! Patios were lined with people smoking and drinking wine, even the McDonalds patio was full with tuxedos grabbing a quick snack. I wish I had a photo of them! ?
There were also heaps of people dressed up looking for tickets to premieres with small handmade signs.
On the way home, we passed through Munich, Germany. Beautiful and clean airport, still can't get over the smoking lounges though. Crazy!

Thankful for the experience to go to Cannes w/ Sean and work on the film. Hope we can get back to Cannes another time but if not, happy to check this off my bucket list!
We worked a lot but also had a few dinner dates and long walks under the stars. All around great time!
---
I'm excited for TIFF19! I've been to one pre-screening so far and have a couple more next week. Tomorrow I've got a pre-TIFF facial! I'll be doing a wrap up of TIFF films & events in 2 weeks.
Making the most of summer until then! Have an amazing day!