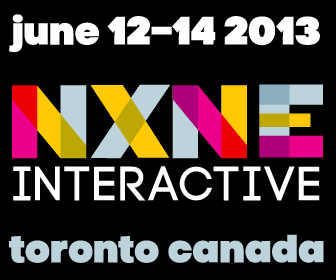 Wednesday this week kicks off NXNE! I absolutely love this festival. Think SXSW more Canadian.  I've been attending and doing giveaways for NXNEi since 2010 (photos below).  I spoke on two panels last year about the Psychology of Narcissism and on Social Giveaways.
This year, the Interactive festival runs June 12-14, is curated by FITC and two lucky people, will win a pass to attend. You'll get to experience the intersection of media, technology and culture with the world's best visionaries and leaders. It's not hard to win. Tweet this button and you're in. I'll pick a winner at two on Tuesday, as in tomorrow, June 11th. 
 If you are in digital, social, or have any passion for anything internet, you will find something here to stimulate your senses.

NXNEi 2010
NXNEi 2011
NXNE 2012
Explore Digital – Media / Culture / Marketing / Music / Film / Startups / Web / Comedy / Art
2013 will be huge. "@fitc excited to be curating @nxnei again. Intersecting media, tech + culture. Get ready for awesomeness #nxnei13"

— NXNE Interactive (@nxnei) June 11, 2013
NXNE Interactive 2013
Explore Digital – Media / Culture / Marketing / Music / Film / Startups / Web
June 12-14: Workshops+Conference
NXNEi Speakers
Johnny Cupcakes • Saul Colt •  YouTube • HootSuite •  TeamBuy • The Score • john st. • Jay Goldman • Etsy
<3 CASIE