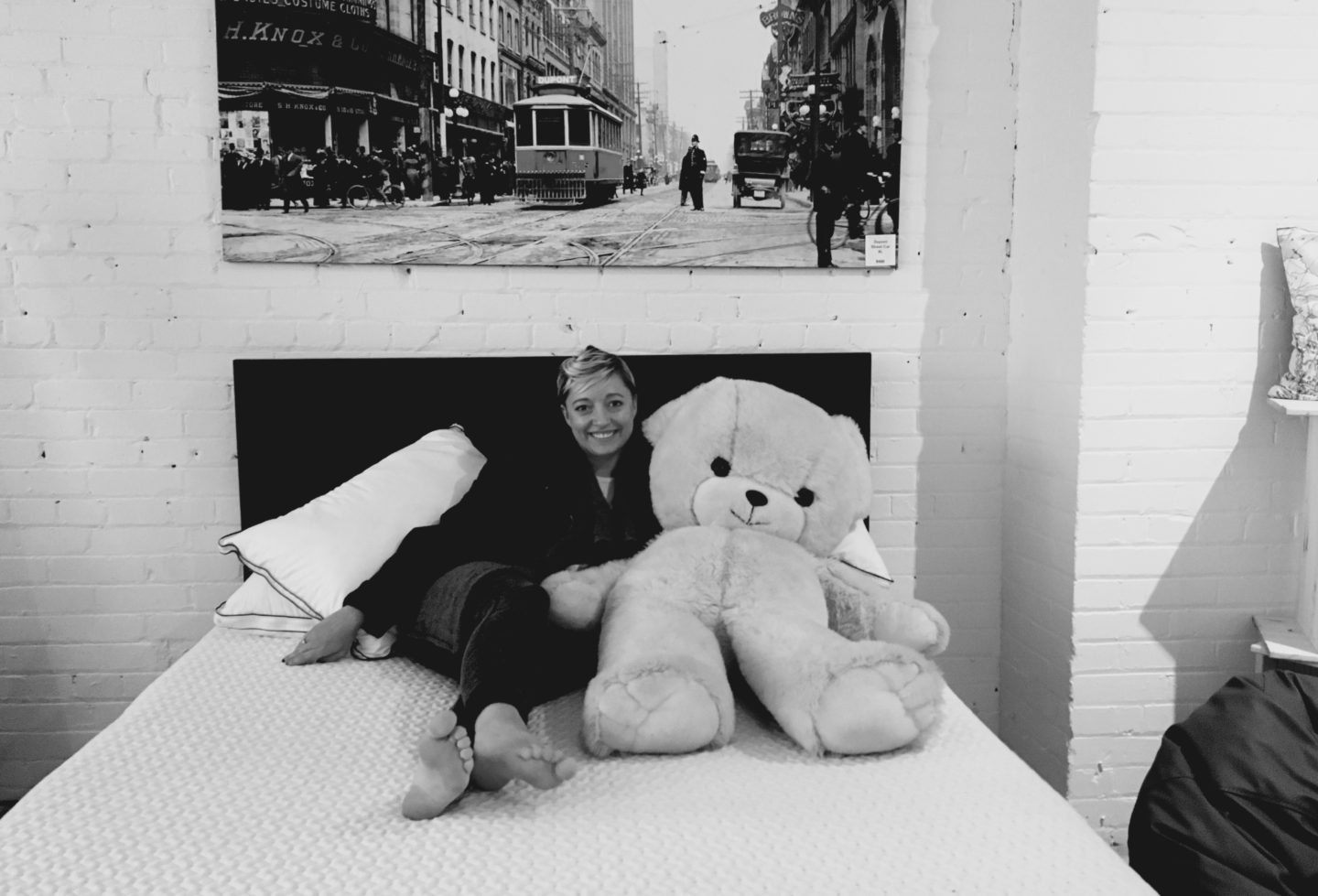 A couple weeks ago I sent a jokey tweet to Endy (a Canadian mattress company) asking them to be my friendy, cute right? I was hoping it would be the start of a beautiful friendship where we got a new mattress and then had better sleeps forever. The end. Well, that's exactly what happened! Sean and I have been looking at getting a new mattress, after checking out Endy, he said 'why don't you tweet them' and that's how it all started. A couple days later I received an email from them and worked out a dealio.
Working with brands via social can be really fun. When I'm looking to get the attention of someone, I often reach out via tweet or slide into their DMs. Building relationships with brands or influencers is a lot easier if you keep an eye on what they're up so, and start out with a compliment or nice message instead of asking for something right away.
Endy is manufactured in Toronto, compressed and rolled into an easy to move box, then delivered to your door (by bike if you're downtown!).
@EndySleep hi Endy, be my friendy? 😍💤💤💤 #LoveSleep

— CASiE STEWART (@casiestewart) March 22, 2016
Our mattress was delivered a couple days after I placed the order it and arrived by BIKE COURIER. I picked a date/time window and we were off to the races. The mattress itself was quite a bit heavier than I imagined. (TBH didn't think that hard ahead of time about *what* an actual mattress weighs, in my imagination it wasn't that heavy but if you have ever tried to move a mattress they are big.) The Endy came wrapped and sealed tight in rectangle that was a bit taller than me.
LIKE THIS:
This week I visited the Endy showroom to check out the merch and say thank you. I am VERY happy with it and we're thinking about getting more for the spare room and cottage. For the first 10 years of my working life I really only ever had Ikea mattresses so this is the first real one I've owned. I know, it's about time!
It's really nice for sharing because if you are a bit wiggly getting to sleep like me, the person beside you doesn't feel every movement. ALSO, the top 2″ is made up of cozy memory foam, infused with a cooling gel to disperse body heat.
If you're looking for a new bed, check out Endy, they've got a showroom inside the Burroughes Building at Queen & Bathurst. They've also got a 100-Night trial and a 10 year guarantee. For more info or to book a trial visit  endysleep.com or check out the customer reviews here.
Ok, time for a nap 😴💤💤💤