Last week I spoke at the graduation for Conestoga College. There were 15 programs graduating and hundreds of students. I got to wear a gold cape as a 'special guest'. I checked the colour of the cape before the event and came prepared with gold shoes. It was pretty cool!
The top photo above is me with Conestoga College president John Tibbits at the presentation of my Alumni Award last year. I was in shock when I found out I'd been nominated for the Premiere's Award then Conestoga surprised me with an Alumni Award. [The highest award from a college delivered by the president!]
This isn't the kind of award you can apply for, and I am so honored to be recognized. I took my mum, and her BFF (aka my second mum & Fairy Godmother!) to the ceremony. We had a great time!
Looking Back…
I've spent the last decade working in social media as the industry grew and developed. I've had my blog for 14 years. When I went to Conestoga College for Marketing, social media was not invented. Blogs were not invented, there was no Twitter, Instagram, or Facebook. I was into marketing as soon as I knew what it was. I chose to study it in college because I had a *feeling* the internet would be something big. SMART THINKIN' EH!
Honestly, in college, I used to skip class and I hardly ever bought textbooks. I didn't have much money in college or university, but I always did the work. I worked well in groups when I was the leader, I liked writing, I was really into presentations. I didn't really know what I wanted to be when I left Conestoga College, so I went to university, in Australia. I liked business but I had no clue about a job. I needed to escape and find myself.
When I finished school, I wanted to work in fashion, something I was passionate about. I did that for a few years and also worked in tech. I was a promo model and a tv/film background extra. I did a lot of jobs to get to where I am today and a big part of my journey comes from taking chances.
I followed my gut. Believed in myself. I took the road less traveled and it really made a huge difference. I've always done things my own way, a little different, and been kinda weird, but as I've gotten older THOSE ARE MY BIGGEST STRENGTHS.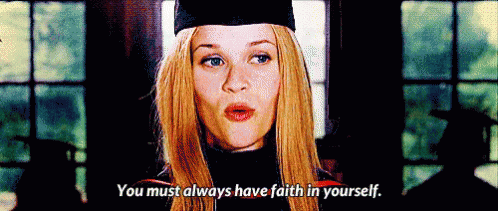 My advice:
If you're younger than me and graduating this year, or in a job that's not your giving you life, don't worry. You have the power to change your path. Your life is YOUR movie and you're the director. Take charge of it. We live in a world where technology is driving innovation and new industries are emerging all the time.
You can't control the cards you are dealt but you decide how to play them.
You ALWAYS have a choice in how to react and what you do with every situation. I wrote a post a while back around the thought that there's nothing wrong with Monday, Monday doesn't suck, you just hate your job. You have the power to change your situation. You got this. Change your attitude, change your life.
My Advice:
Find something you love and go confidently in that direction.
Do something each day that brings you closer to your dream.
Learn as much as you can about the thing you love, be the best at it.
If you're looking for something else to scroll, read this post on my advice to the graduating class when I was inducted into my high school hall of fame.