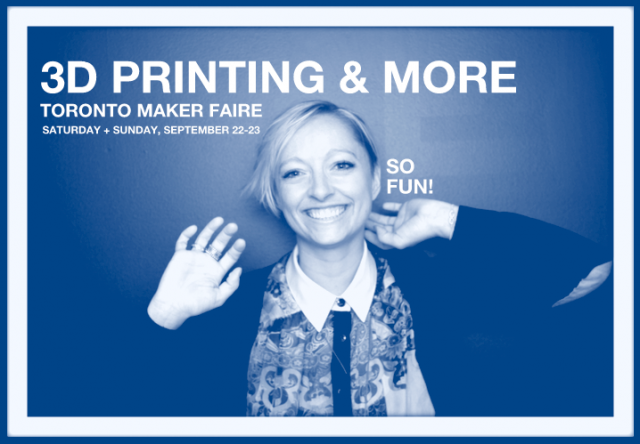 I've told you about my love for 3D printing for months now and today is a special day, my bf is having a 3D printer delivered to his office, it's also his birthday.  [LOVE YOU!] (He subscribes so this will be in his email :)) You can subscribe too.

I so freaking excited to learn how to print in 3D. Next month is the Toronto Mini Maker Faire where people show what they are making, and share what they are learning. I'm stoked to soak up inspiration and see just what's possible.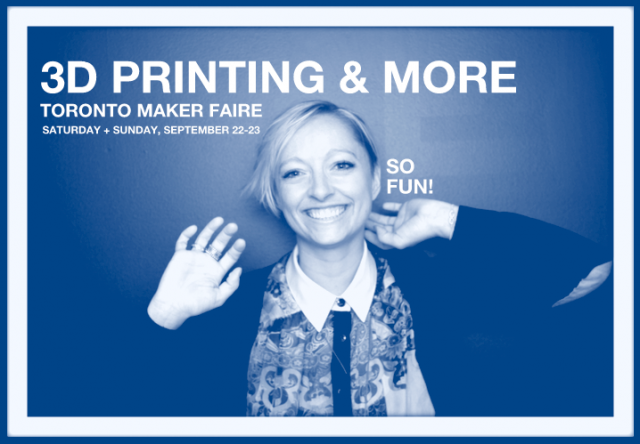 For two days, innovators, artists and hackers from all over the city are busting out of their garages to take part in the biggest show and tell around. It's going to be 3D printing, robots, Tesla talk, flame throwing unicorns, oh y'know, all my fav nerdy things. Gahhhhhh.  A friend on the organizing team called it "burning man meets craft show" so when she emailed me I knew I had to tell you. You'll get the to make and learn through interactive activities and workshops too.
What can you do at Toronto Maker Faire?
Make your first robot
Get inspired to design your own wearable electronics
Learn how to solder
Take your skills up a notch by attending a hands-on workshop
Find a project that inspires you and talk to the maker who built it!
Adult per day: $25
Student/Senior/Unwaged per day: $15
Child (6-12 years) per day: $8
Sunday Morning Family Pass (10am-1pm – 2 adults, up to four children): $25
Children 5 and under are free.
AND IN OTHER 3D PRINTING NEWS… The crew of volunteers running the show are giving you one more reason to get your tickets early, the chance to WIN a 3Doodler, the world's first 3D printing pen! DON'T EVEN, this thing started out as a badass Kickstarter that got over $2.2M.
Buy your tix to attend by FRIDAY, AUGUST 9TH  and you'll be automatically entered to win. You can also gain more entries by tweeting what you'd create with the Doodler! 
I would create  _______ with a @3Doodler @MakerFaire_TO

If you get a ticket LMK in the comments or Tweet me. Would love to see ya there. Stay tuned for my 3D printing adventures, coming right up in the next couple months. I also promise to practice on my ukulele.
Have an awesome day!
<3 CASIE