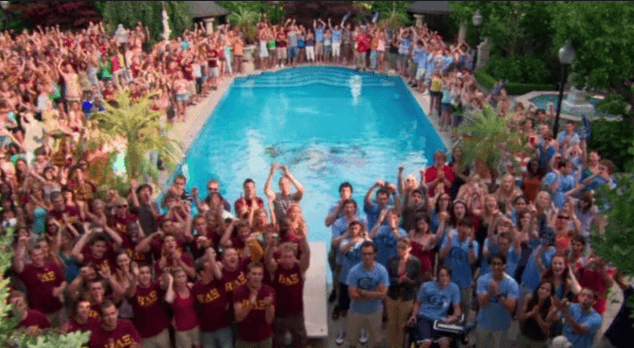 Years ago I used to work in film & tv as a background actress. I spent hours, and hours sitting in holding waiting to be called to set. It was a really fun experience and I met heaps of cool people. One summer I spent months working on the set of American Pie: Beta House.
There were heaps of really cool people on that set including now CP24 weather reporter Patricia Jaggernauth, recording artist Ish Morris, actress Meghan Heffern, and my sister (who had her own trailer for part of the summer).  Eugene Levy was in it too.
Below is a little diary entry  wrote while sitting in background holding on the set of Degrassi at Degrassi High in 2008. This photo was taken years later when I worked at MuchMusic & MTV and was given a Degrassi shirt.
I started thinking to myself as I sit in Background Holding for Degrassi High…. Here I am working on a show I've never seen surrounded by a bunch of people whom either I've met over the last six weeks or are new faces. Its' great. I hear the sound of "Its Raining Men" on the set, I've managed once again to avoid being used or getting on camera. (This is often a goal! lol) It's a total dream when you get to spend the day sitting in Holding, getting paid to do whatever it is your little heard desires until they call for lunch or "everyone on set". I'm hoping that today I make it until lunch.

My first experience as a Background Performer was working on the set of "American Pie presents Beta House". I was booked with my sister to do four days of continuity at a mansion in Thornhill. The place was beautiful! We met at Background Holding, a circus tent in the middle of a shopping mall parking lot. As we checked in with casting at a mere 6:30am the tent began to fill up quickly with about 200 extras who had been booked to work that day. Lucky enough, I was with my sister so I wasn't alone. Today is my first day working without her and when you're by yourself, the desire to be on camera and have a good time, for me at least, is very low. I would much rather sit here in the background and work on something else.

The first day of American Pie turned out to be quite fun. We managed to meet some great people and looked forward the next few days. As each day passed we made more friends, all of which included the cast and crew, writer, producer and the casting team.
Now, keep in mind, being a background performer is not as glamorous as you might initially think. At first we didn't stop by hair and makeup, although there is no escaping wardrobe. They will not let you go anywhere without checking your outfit. Trust me, if you brought one thing in your bag that you would rather not wear, chances are wardrobe will make you wear it, that is, if you haven't' made friends with them yet. There is food provided, which is great. Here's hoping I get booked for more days, this is pretty fun. 
Oh man, those were some great memories. If you've got time and are looking for something fun to do, there's always jobs for background performers. I learned heaps about how film & TV are made and just how many people it takes to make something you watch on a screen. I've done a bit of tv, commercials, and film since then. Did you ever see my commercial for the Comedy Network? I played the role of 'Hipster Girl' and said "I expose people to magic". That was fun.
Here's to Thursday, 'best day of the week' as Keri says. I've got lots more TBT stories to share over the next few months.
Have an awesome day!
<3 CASIE