A couple weeks ago I had Emily help me at the cottage with hosting hacks for summer (see that post here!). The other night I gave a few of the recipes by Chef Sahir for buterball.ca a whirl. I made a spinach salad, tacos, and burgers for our last night as a fam at the cottage before back to school.
The directions weren't hard to follow and the shopping list feature made it easy to see what things we needed/already had. Scroll down to compare my photos with the professional ones, we didn't do too bad. 😋 Thanks to Sean for being an all star helper on this one! ILY!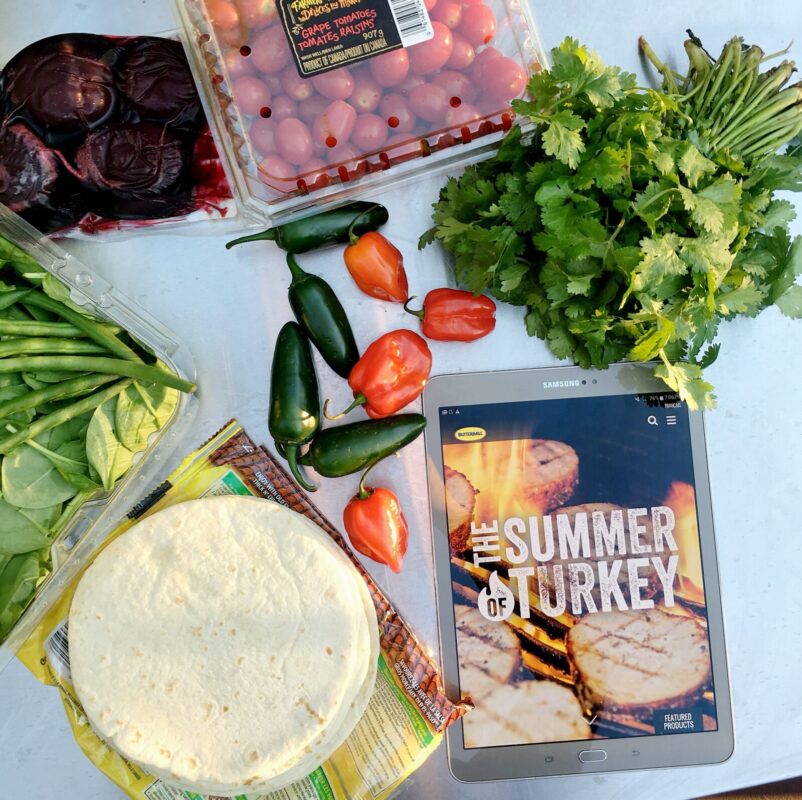 There's plenty of time to bbq before 'old man winter' so fire it up and give one of these  recipes a go!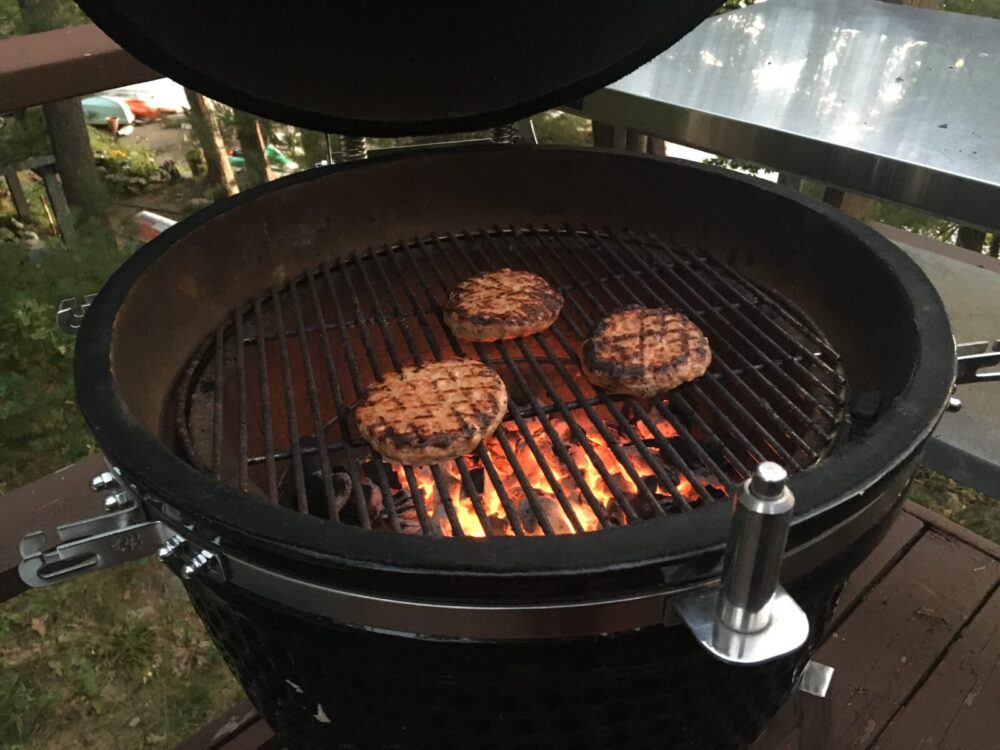 ---
Recipe 1: Beet, Spinach and Apple Salad, w/ Pomegranate Vinaigrette
I love beets and they're so good in salad. Instead of peeling, cooking, and cooling them I picked up pre-cooked from the salad section at Loblaws. No shame! The almonds are a nice touch with pomegranate dressing. 🍎🍏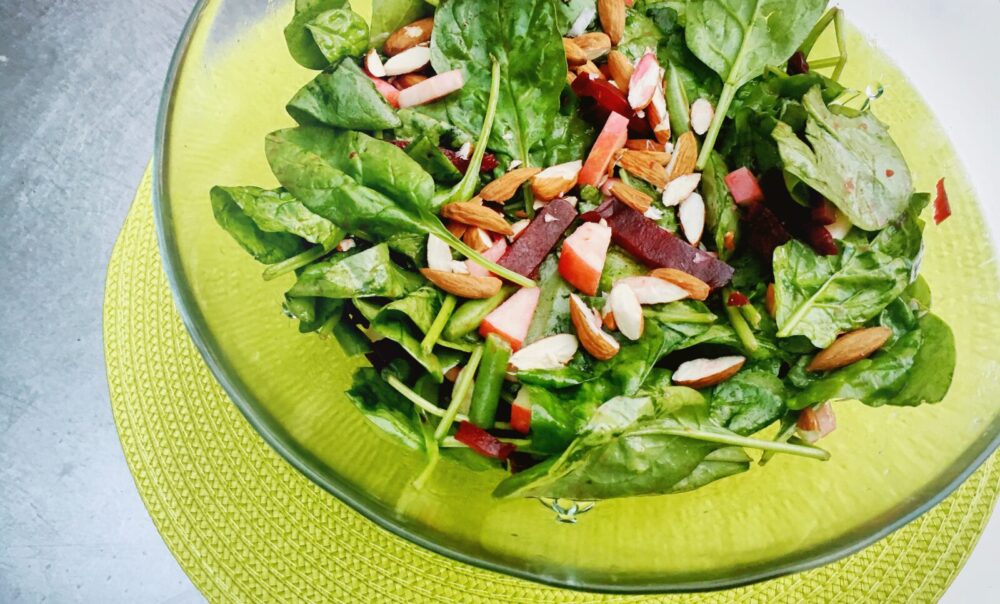 How to Make the Beet, Spinach, Apple Salad ✔️ shopping list
For dressing, place all ingredients except oil in blender container; cover. Blend well. With blender running, gradually add oil through opening at top of blender, blending well after each addition. Pour dressing into storage container and refrigerate until ready to use.
For salad, combine all ingredients, except almonds. Refrigerate until ready to serve.
Whisk dressing and toss with salad mixture just before serving. Sprinkle almonds on top.
---
Recipe 2: Turkey Tacos
These tacos were so good. I ended up making a breakfast taco and then having the rest of the leftovers after the cottage drive. I added to the filling with a great Chipotle & Cheddar salad from Dole that comes pre-mixed with kale, cabbage, and toppings. We grilled a few hot peppers to go with the tacos too. I love the spice!!!!!!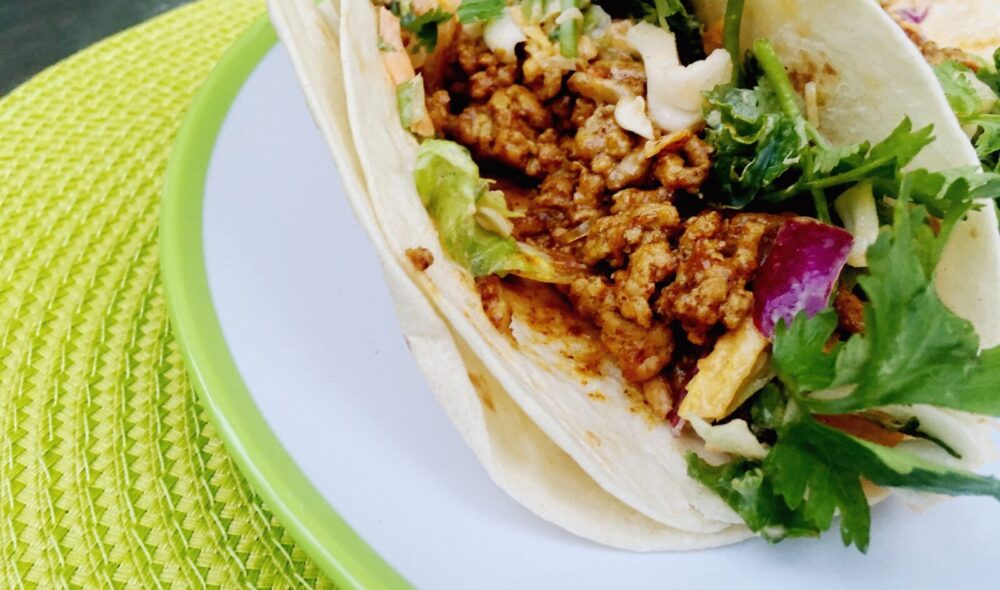 How to Make Chef Sahir's Delicious Turkey Tacos ✔️ shopping list
Heat oil in a skillet and sauté turkey and onion. Preheat oven to 350°F (180°C) to heat up taco shells.
Add garlic, turmeric, chili powder, salt, paprika, pepper, and water. Cook uncovered until water evaporates, stirring occasionally. Remove from heat.
Heat taco shells for 3 minutes.
Using a spoon, fill shells with mixture and garnish with diced tomatoes, grated cheese, salsa, guacamole, or sour cream to taste.
---
Recipe 3: Athens Turkey Burger
I got small grape tomatoes instead of Roma tomatoes but they were still delicious. Obvs! I absolutely love cooking tomatoes in the oven like this. If you love garlic throw in a couple whole garlics cloves. I cooked some extra garlic and tomatoes to add to breakfast the next morning. I skipped the olive tapenade because I don't like olives!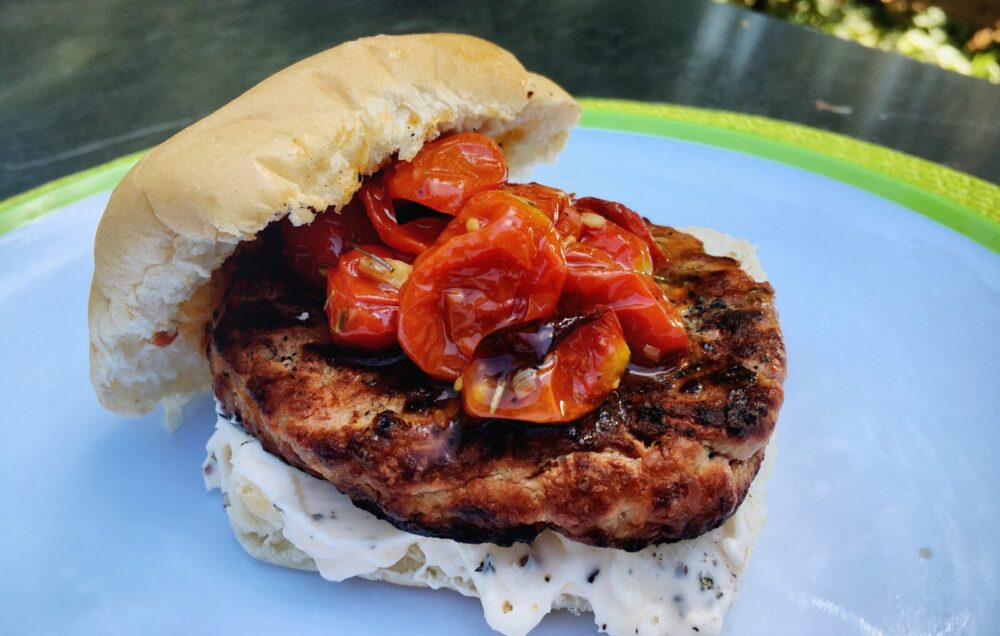 How to Make the Athens Turkey Burger ✔️ shopping list
Combine Feta and whipping cream in a bowl. Whisk until mixture is smooth and slightly thickened. Tip: Can be made day in advance.
Combine kalamata and almond tapenade ingredients in a food processor until mostly smooth, but not a puree.
Combine roma tomato ingredients in mixing bowl then coat evenly with olive oil. Slowly roast in 275°f oven for 3 hours, until softened and flavors intensified.
Cook Frozen burgers on grill as per package directions (approximately. 5-7 minutes on medium heat, being careful not to cook outside too fast.)
Cut buns and half. Grill on direct heat until nicely toasted.
Spread 1 tbsp. of tapenade on bottom buns, and then evenly distribute Feta mousse.
Top with Romaine, burgers then slow roasted Tomatoes. Top and Enjoy!
---
Each recipe can be found at butterball.ca and I've linked to them above. The original recipe photos are below.  See?! We did pretty good! 
Working with Butterball Canada this summer has also introduced me to a few new recipes to switch things up with my cottage cooking.I've got my eye on recipes for Thanksgiving and winter soups. Whiskey marinade? Yes. 
It may be the end of 'summer holidays' but remember it's still officially summer until the 21st of September. Try a 'summer of turkey' recipe already!  Check my hosting hacks from the last post for your next dinner party, link below.
Happy grillin'!