I've said this before and I'll say it again. it's amazing what a weekend away can do for your happiness, health, relationship, and spirit. Over the winter we don't get away too often so when Ford Canada offered up the new Ford Expedition and hotel stay, I was so down.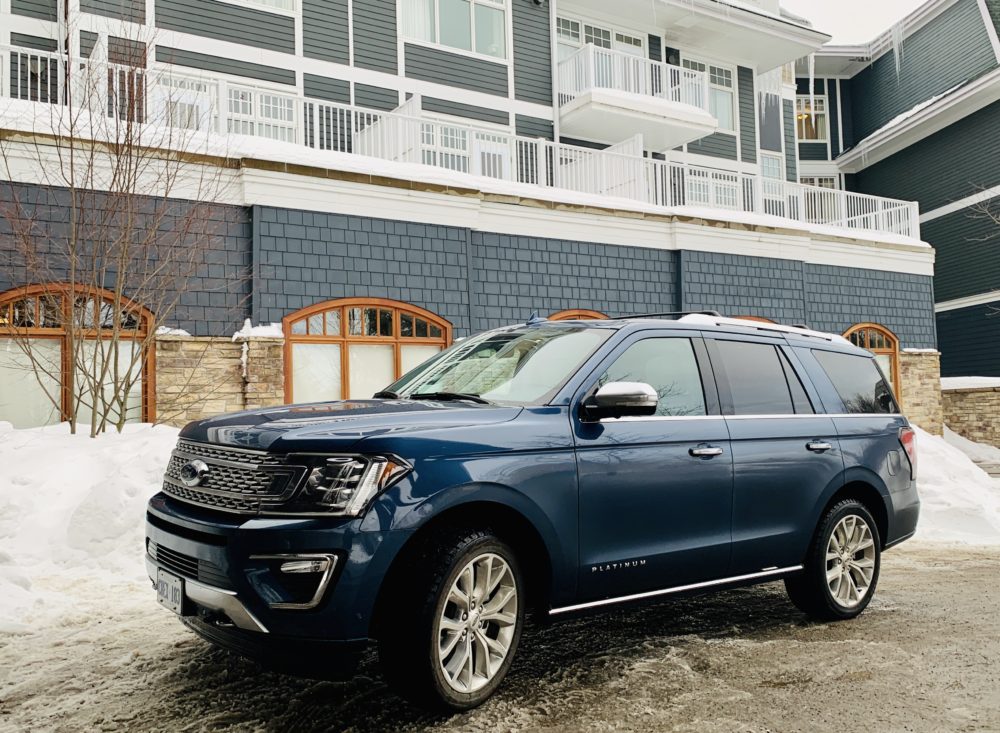 We stayed at the JW Marriott Muskoka, one of Canada's top 10 luxury resorts as voted by Conde Nast. I've wanted to stay here for ages and tweeting back in forth about Muskoka and cottage life for years. The staff were nice, the food was good, it was quiet. We didn't do much other than eat and sleep but it was just the relaxing 24 hours we needed.
The lobby is quite modern and the whole place has a country house vibe. There was warm apple cider in the lobby, complimentary snowshoeing, snow bikes, and valet.
We were upgraded from a standard room to an apartment style suite which was verrrrrry roomy. A family of 4 could have stayed here no problem. It had a full kitchen, fireplace, two tvs, a private bedroom, washroom with 2 sinks, and a separate toilet/bath/glass shower, so you could use each independently.
I could have honestly stayed there for a week working on the great Americancan novel, or my blog.
Inside the JW Mariott Muskoka
The hallways feel a bit like you're in a movie. We're definitely going back in the summer to take in the outdoor spaces and activities.
The weather wasn't great and neither were the roads. I was happy we were in a vehicle with 4 wheel-drive. The 2019 Ford Expedition Platinum is huge, especially when you are only 5'2 driving an SUV that seats 8! It's also rollin' on 22's so you're seated above most cars on the road. Great for visibility! The amazing traction control was very useful on icy Muskoka back roads.
"This is a very smart vehicle."

Sean on the way home through a blizzard
This car definitely got dirty driving through lots of huge of slushy puddles, snowy roads, and a slight blizzard on the way home.
Some of my favourite features of the 2019 Ford Expedition:
wireless charging
heated steering wheel
massage chairs
heated/cooling seats
Hands-free liftgate (open back door with foot movement!)
SYNC3 & Apple Car Play
360 + Backup cameras
B&O Soundsystem
There's also entertainment screens in the back of the front seats but we didn't use them as it was only us this weekend. Although, earlier in the week Emily absolutely LOVED sitting in the front seats, the middle seats, sleeping in the back seats, and the varying technology in each passenger location.
Wireless Charging

SYNC3

Apple Car Play
Another cool feature of this SUV is the Ford Pass App + Wireless Hot Spot, we didn't use these features but I would 100% if I owned the vehicle.
Thank you Ford Canada for creating this experience. It was so nice. We had so many laughs and came home feeling rested.
If you're keen to stay at the JW Muskoka, use this link on booking.com to get $40 back on any hotel reservation.
I'm looking forward to being back up in Muskoka in a few weeks to start opening the cottage.
The countdown to spring IS ON!

Ford Canada hooked us up with a car and hotel! Wooo hoo!