The vacuum is incredible. Best I've ever had. I love it. The end.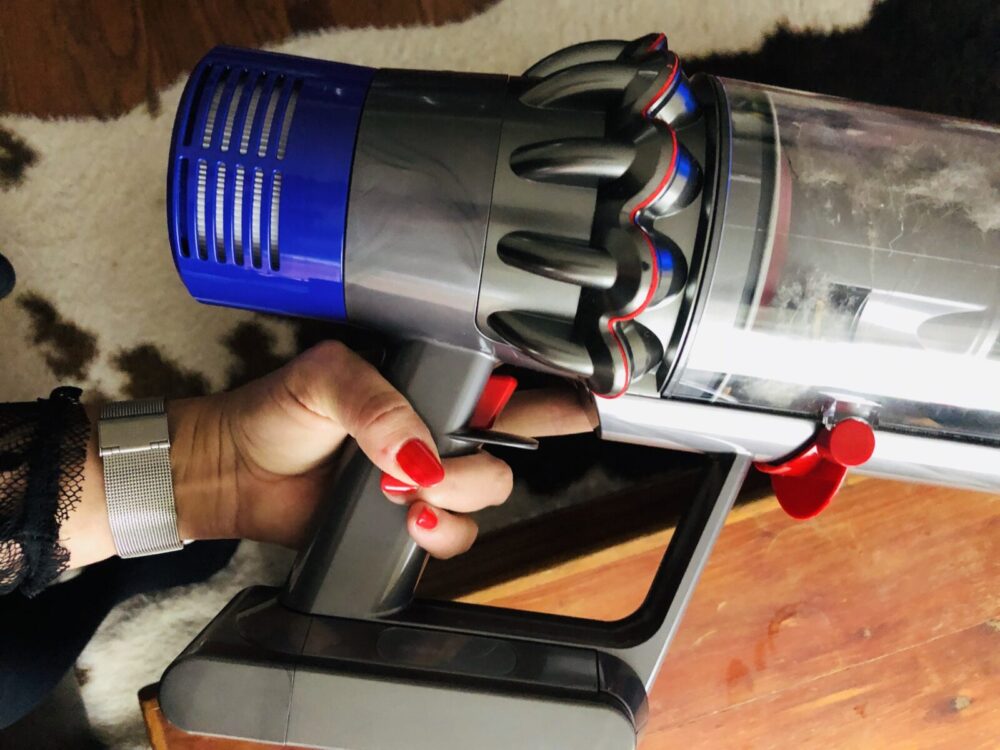 ---
Ok jk jk.  I received an email about a month to review the new Dyson Cyclone V10 and was 100% down. In exchange for my review, I get to keep the unit and my house had never been cleaner! This thing has some SERIOUS power. It's also easy to use right out the box (once charged!) and if you have any kids around, a great motivator to clean their room. 
Adulting is cool. Excited to bust this open and take 'er for a spin! Thank you @Dyson! Will be sharing my thoughts on the bloggy. pic.twitter.com/YV3R69Eq7O

— CASIE STEWART ☀️ (@casiestewart) October 3, 2018
I love that it's cordless. You can just grab it and go for quick cleanups around the house, around the couch, the kitchen, the stairs, baseboards. I have been using it almost daily as a small dust buster style like the photo above. Emily has cleaned her room every weekend since we got it which is a huge plus. The dusting wand is amazing for baseboards and hard to reach dusty areas. 
It is definitely a bit bigger and heavier than the V6. I kind of wish it had an on-off switch, you currently have to hold your finger on the trigger to use it. The battery lasts up to an hour which is amazing. You can honestly vacuum up almost anything, cereal, sugar, dirt, paper scraps from crafting. 🙂 The V10 allows you to clean up 40% more before you need to dump the contents it and it's super easy to empty without making a mess. 
Learn more about this great little machine at dysoncanada.ca or order your very own unit from Amazon. 
---
I previously had the Dyson V6 which was an incredible vacuum and after getting the V10 I gave it to a friend. I am a huge fan of Dyson products and also have the Dyson Pure Link Fan (read that review here). I am yet to try the new AirWrap or hair dryer. Maybe it's time to grow my hair out! 

---