Not long I went to an event at Only One Gallery featuring a reading by NYC poet Cleo Wade hosted by MedReleaf's brand, Altavie. It was one of the first cannabis-focused events I'd attended, it stood out with its classiness and the incredibly cool group of mostly women in attendance.
The night started with a guided meditation where everyone closed their eyes to take a few minutes for themselves. The panel was hosted by Briony Douglas who's art was displayed around the gallery with a few other artists (Alpo Snow, Tahsin- The Good and Enzee Creative. Briony is one of my favs I have couple pieces from her recent show MOUTHPIECE in my room.
AltaVie by MedReleaf aims to help make mindfulness more attainable
Altavie is a high-end cannabis brand with a movement towards mindfulness, being present, and living in the now. Cannabis products are becoming more and more well known for their mental health benefits, for example, in helping with anxiety, depression and insomnia, and there are many different kinds of products out there, from CBD vaping cartridges (check out this CBDFX discount code if you're interested in those) to products like Altavie. I was there thinking, 'wow this weed brand is so ME right now, how is this really happening'. Life is such a dream. It's amazing how so much has changed – now there are more cannabis brands reaching customers with the help of an SEO agency specializing in the cannabis industry which once upon a time, not too long ago, would have been totally unheard from. How times have changed, and for the better too, I would say!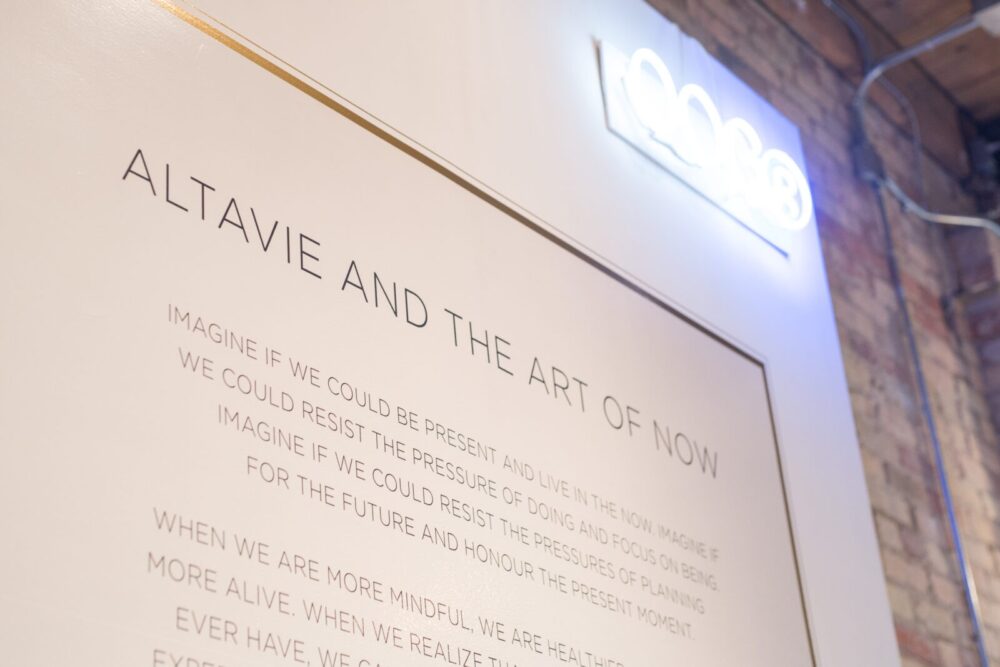 The only product currently on the website is a cannabis-free a nut bark that looks pretty good called Cannabis Crunch. It's infused with cannabis inspired flavours (toffee, cinnamon, cardamom) and the product is already available at over 200, health food, drug and grocery stores across the country. A perfect product placement strategy.
"We are living in a fast-paced world that has us all constantly looking to the future and focused on getting somewhere or the next thing" noted Darren Karasiuk, VP Strategy at MedReleaf. "While the benefits of cannabis are far-reaching, for the launch of AltaVie we want to focus on the power of being in the present, allowing our consumer to appreciate life's moments more fully – in the here and now, big or small."

Newswire.ca
I'm really interested in high-end cannabis brands and products, and how they're being marketed to women . I've already seen some really beautiful accessories. Um, hello weedbox.com?!
---
Another cool thing about this event was San Rafael '71, another Medreleaf brand targeted at the classic consumer. Their 420 Lager doesn't contain cannabis but it has exactly 4.20% alcohol. Nice one! ?The beer was released in partnership with Amsterdam Brewery prior to legalization to get the brand name out there. If you live in Toronto you might have seen the posters around. Smart idea.
---
This is the creative marketing I love, I live for this stuff. So exciting. I love being part of what's happening in the cannabis space and it's only going to get more interesting. Please invite me to all your events.
---
This week I'm going to a cannabis event for a 'sneak peek' at 3 new cannabis brands and it's at 'For Your Eyes Only' (a strip club). I will be sure to take photos (if I can!) and share what goes down behind the black curtain.


http://yourcialisrx.com/cialis_professional.html
http://cialisnextdaydeliveryusa.com
This post is not sponsored by Altavie! Cool the brand & the event was great. All photos by Ryan Emberley.?