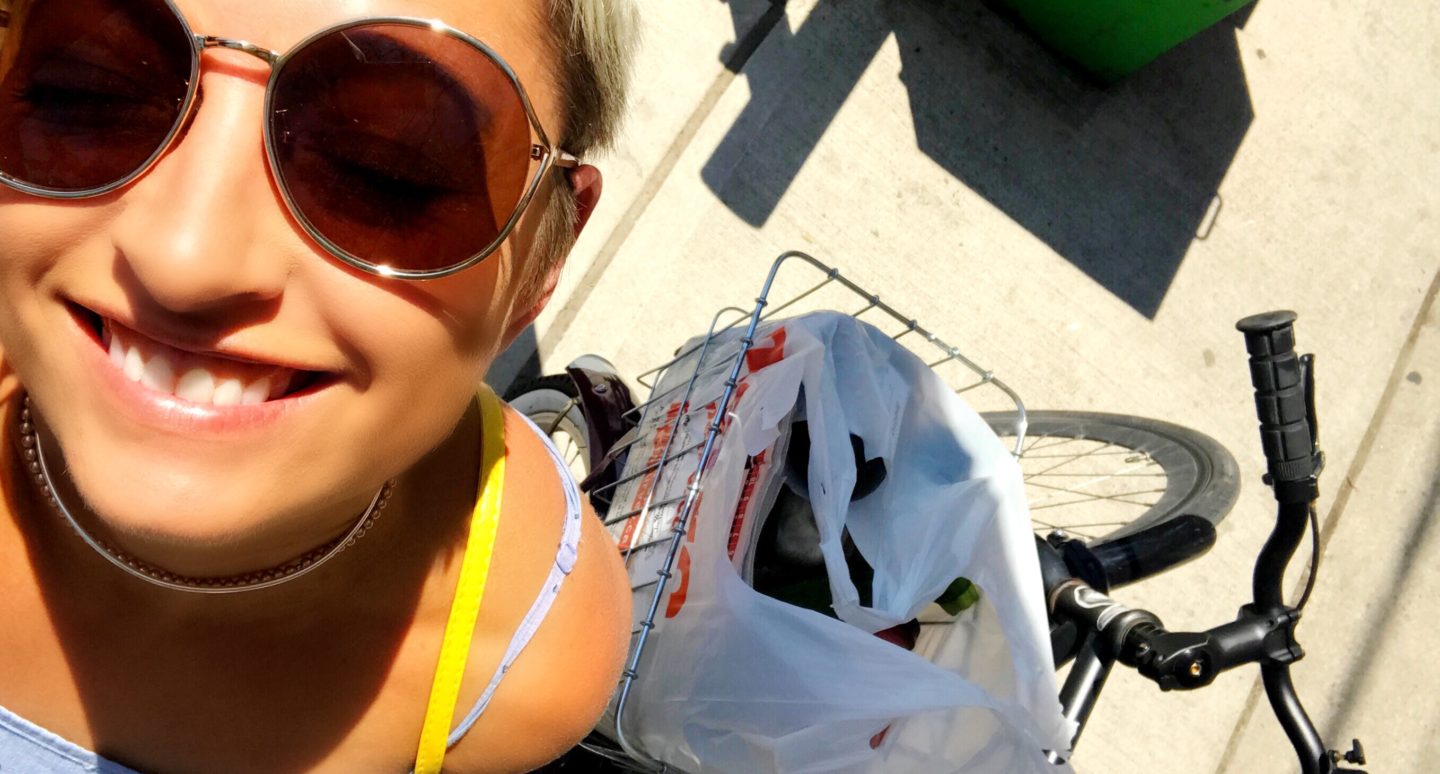 In the last 24hours, Sean and I drove for nearly 12 hours. We were in Stoney Creek near Peterborough for the weekend, left there Monday morning to get to a meeting in Arnprior for 2, then across through Algonquin Park, up to Parry Sound, then back to Muskoka, and home to Toronto today.
MOOSE MAMA & BABY!
HEY MOOOOOOOOSE!
It was nice driving together and seeing the sights, but after all that time in the car, I couldn't wait to get home, ride my bike, do laundry, and make something healthy. We'd been eating mostly roadside snacks (chipwagon, pizza, etc) so I was really craving vegetables.  Hopped on my bike when I got home and zipped over the new West Queen West Metro. Didn't realise how hot it was out so I was pretty sweaty lol but it was so nice to be back on the road. ☀️🚴🏼‍♀️
If you've seen my tweets you'll know I got a spiralizer. I didn't know I wanted one but now I am obsessed! I've been making zucchini noodles with avocado cream dressing topped with grilled chicken. It's so light and delicious.
I made it today when I got home scroll done for deets, it's so easy!
---
What You Need to Make Perfect Summer Zucchini Avocado Pasta
Zucchini (for noodles)
Chicken breast (optional)
For Sauce

Avocado 🥑
Shallots
Cherry tomatoes 🍅
Garlic
Olive oil
Basil 🌿
Cook chicken breast in the oven at 375 for 45 minutes/until cooked, or pop on a BBQ and grill to perfection.
While the chicken is cooking, spiral those noodles. If you don't have zucchini or a spiralizer, use regular noodles. The sauce is really the best part!
Mix garlic, onion, avocado,🥑 tomatoes, fresh basil, and olive oil in a Magic Bullet, Food Processor, or some other mixer thing. Set side for a minute. It's time to make the noodles.
Heat a bit of olive oil in frying pan until it's very hot. Toss zucchini noodles in the pan for a 2-3 minutes moving them around the whole time. They will cook super fast and you don't want to overcook or they will get soft/mushy. Think al dente!
Throw in the sauce and chicken and mix it around for a minute until warm.
Add salt & pepper to taste.
ENJOY! 
Note how healthy this pasta is! Pop by Amazon to get a spiralizer
---
---
I recommend eating outside and enjoying the weather. I was so hot after my ride and I decided to stay in and watch Young & the Restless! 😝✌🏼 Yes, after 35 years, I'm still watching!

All ingredients from my local West Queen West Metro!
Check out some other features of the store here on the blog.