Now that salons are open again, I was so excited to get an appointment at Sassoon Toronto. I've been going to Sassoon for almost 5 years and they've seen me through every hairstyle from a shaved head to long hair. I absolutely love the team there and always leave feeling fabulous.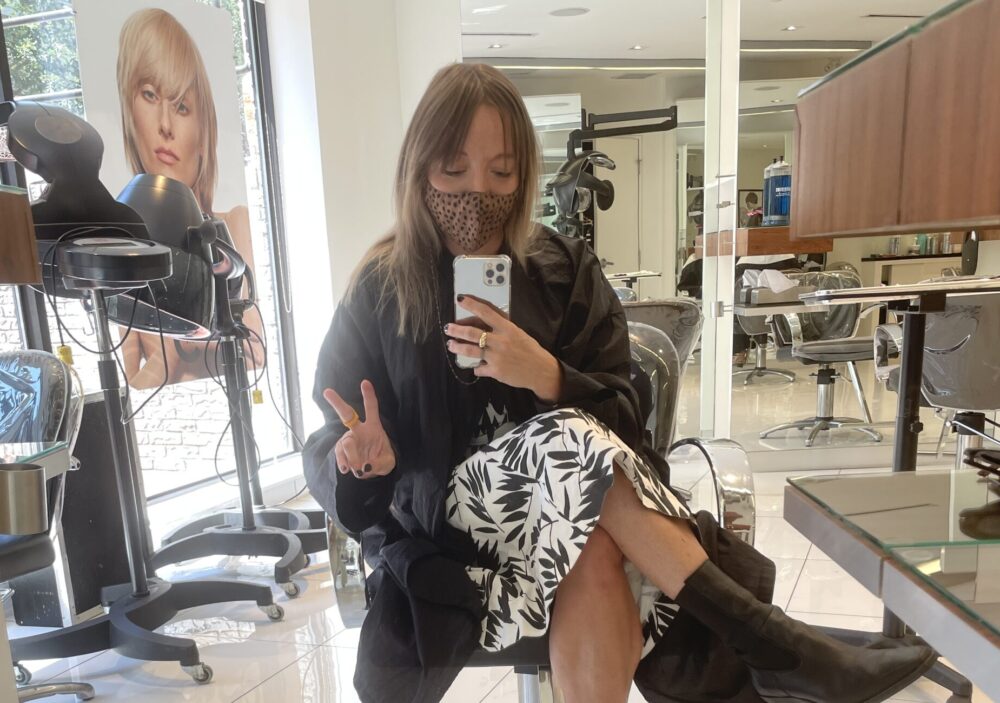 It had been nearly a year since I had my hair done and I've grown to quite like my natural look. I had bleach blonde hair for over a decade and hadn't seen natural hair since I was about 12. I didn't really know what colour my hair was!
I'd been cutting my own hair for months and was certain I'd done a good job, well…I WAS WRONG. Look how lopsided my hair was! First two photos are before, second two are after my cut/colour. Tricia asked if I was left-handed, she could tell by how I'd cut my hair. Ha! Won't do that again.
Since my hair was a bit of a mess, I asked what kind of things they're seeing from other people post-lockdown??? Turns out, a lot of people opted to grow out their natural colour. During the first lockdown, they had a bunch of clients who turned to drugstore products, then had to have their hair fixed when salons opened. During the second lockdown, a trend emerged to not go the DIY route and wait it out.
If you happen to have roots and you're not sure what to do next, give Sassoon a call or book an online consultation. There's heaps of low maintenance options where you can brighten your look and still keep it natural.
During the lockdown months when Sassoon Toronto was closed, they took the opportunity to do some upgrades to the studio and their online presence. They now have a revamped website at sassoontoronto.ca with online booking, cancellations, info about each stylist, and the ability to buy products.
I've been using a few items from the Blonde Absolu line by Kérastase lately, the line is made specifically for blonde hair. The hair masks keep my highlights from going brassy between salon visits.
I love are the Kératase L'incroyable Blowdry, it heat protects your hair and makes it super soft. My other fav product at the salon is this invisible dry oil by Bumble & Bumble, it's super light, holds a curl, and adds a bit of texture.
My Cut & Colour Experience at Sassoon Toronto
After a consultation with the team, I decided to go with a bit of balayage (first time!), keep the natural roots, and even out the ends. I love it! Turned out so good. My colour was done by Tara and the cut was done by Tricia.
Watch it on video here!
---
Thank you Sassoon for revamping my look and making me feel vibrant again. Look forward to visiting again in a few months!