Have you heard about Love Shack? It's the coolest, cutest, and smallest wedding venue in Toronto located at Stackt market. My friend Nataleigh has been working on this idea for a little while and I'm so glad to see it come to life!
If I was getting married, this is 100% something I'd be into. For the record, Sean and I have been together for 8 years but don't at this time have plans to get 'hitched! ? I've never been one to dream about my wedding but the idea of a quick & cute ceremony sounds ideal. Then you can have a party with the whole gang later (after COVID!).
What is Love Shack Toronto?
Love Shack TO is a pop-up wedding in a shipping container, the grooviest place to say 'I do'. They call it 'no fuss, all disco'!  Everything you need is there including decorations, officiant, photographer, florist and even the rings! All you need to do is book a date & time, tell your friends, and show up w/ your one true love. They offer three package options and are open Wednesday – Sunday until August 13th, 2020. Bookings and inquiries can be sent to sayyes@loveshacktoronto.ca or booked online at loveshacktoronto.ca . 
What inspired Love Shack?
I really wanted to create an alternative space for intimate celebrations. An option between city hall and a big venue expense. Between the cost, the waste, the limited options, I wanted to create a space that helped people just feel at ease while celebrating something so special.  I had planned to open before COVID hit, thinking it would be a cool idea to open a Vegas-inspired option for local couples.  However, when the pandemic hit, it put everything to such a halt.  We almost didn't open.  However, as people needed to change their wedding day plans we thought it would be a great option for them to get married and then celebrate their big day next year.  Plus, if people had just been looking for a space for their groovy wedding, we wanted to provide it.

Nataleigh Ballantyne, Founder Love Shack Toronto
Any challenges with opening?
Starting a business always comes with its challenges. The idea is great, but then there's the nitty-gritty stuff, securing funding, permits, insurance, contracts etc. I'm an entrepreneur but mostly in the digital space and opening a brick and mortar has been challenging but luckily I have some amazing people in my network helping and encouraging me.   There were moments when I felt it wasn't going to come to life how I planned, but now when I sit in the space, I just love it.  I hope a few other couples do as well and come get married! 

Nataleigh Ballantyne, Founder Love Shack Toronto
Tell me about the vibe!
The set up is colourful and vibrant,  I felt that a lot of the wedding we see were all very similar, beautiful don't get me wrong, but we needed a space that brought colour, fun and less stress back into the event.  The shipping container has a fun, good vibes, groovy feel, with some gorgeous floral installations by Flower Treasures and a hand-painted wall sign by kerbal design. That's the thing about creating something, having the best team really helps the vision come to life and gives you people to help keep you on track.  

Nataleigh Ballantyne, Founder Love Shack Toronto
---
Love Shack Toronto has been featured in Canada's biggest media including CityTV, Breakfast Television, BlogTO, Virgin Radio, and Kiss92.5.
They also have a contest running on The Edge where you can WIN a WEDDING!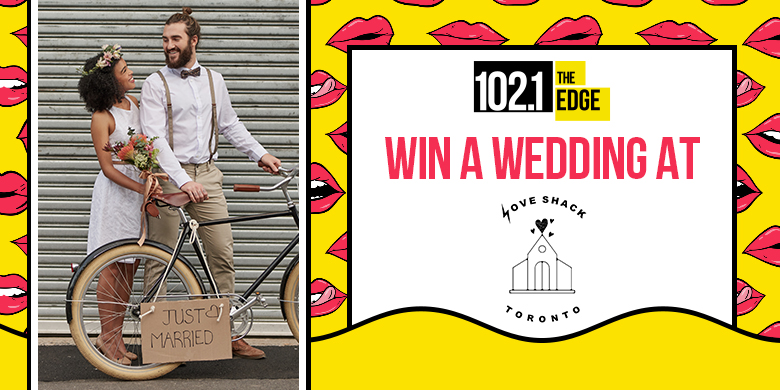 CONGRATS Nataleigh & team on making this idea a reality and giving couples a memorable way to celebrate!
Their social media is super cute, follow @loveshacktoronto!