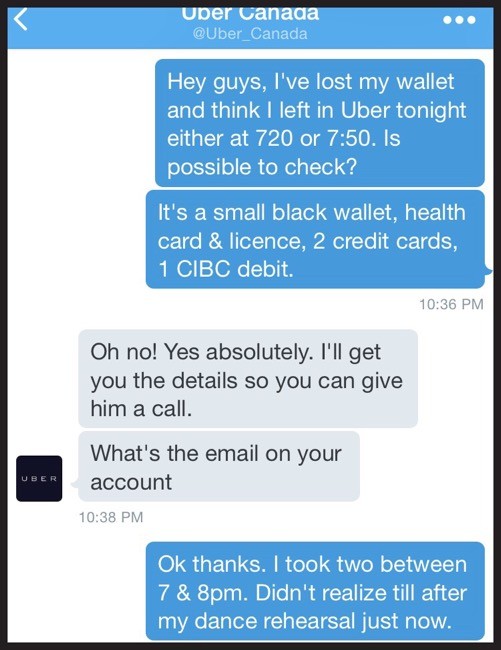 As you may know from the news, there's lots of talk about Uber around the world and especially in Toronto. Last week I went to the rally at city hall with my friend to show support for Uber & UberX (non-taxi people doing pickups) with heaps of other riders and drivers.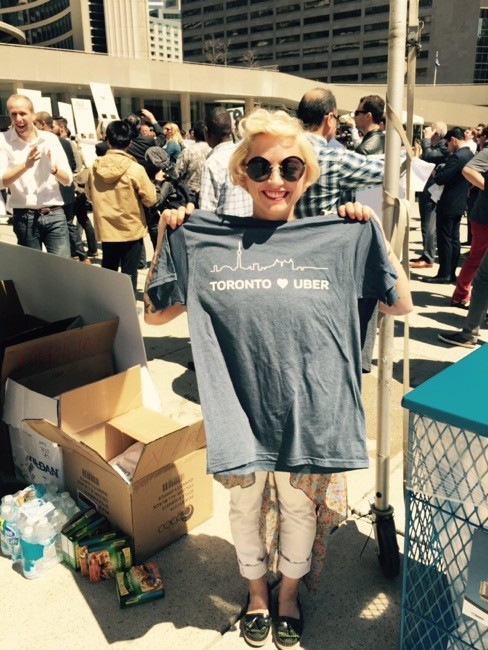 Yesterday I took a record (for me), 5 UberX cars in one day.
Home to 1188 Office
1188 to The Brewers Plate
Brewers Plate to Netflix Thowback Party
Netflix to Army of Sass dance rehearsal
Rehearsal to Home
When I ran to dance class from the 4th car I left my wallet in the car. I didn't realize till after dance. This was after frantically tearing my bag apart and scouring the studio. I sent a DM (private message on Twitter) to @UberCanada and asked if they could help. It was 10:36pm.
By 10:42, my wallet was found and Uber Canada text me a contact number for my UberX driver who had my little wallet. I rung him and arranged it to be dropped off at my HOUSE.
THIS WOULD NEVER HAVE HAPPENED IN ANOTHER TAXI.
Have you ever left something in a taxi? It's basically a lost cause. I lost a wallet and an iPhone last year and there was no way to track down the driver or car. With Uber, my stuff was safe and sound with the driver and back to within an hour of realizing it was missing.
There's a bunch of things I really love about Uber (especially UberX) and it's that drivers are never on the phone, cars are clean, and they're generally really nice. Also the following list that you will not find with a traditional or Beck taxi.
You know who is picking up and when. You've got the drivers name, contact.
You can see on the map where your driver is at all times.
You get a notification on your phone when they arrive.
There's no cash exchange or need to tip extra, payment is automatically on your credit card.
Your receipt is emailed to you.
You have the ability to rate your drivers and give feedback when the ride is complete.
I wanted to share this experience because Uber gets a bad wrap from some people out there but if you look at the taxi industry, it's about TIME it got up to speed. I'm glad we have a mayor that supports the service and I hope that Uber is here to STAY!
<3 CASIE 🚘 vrooooooom!