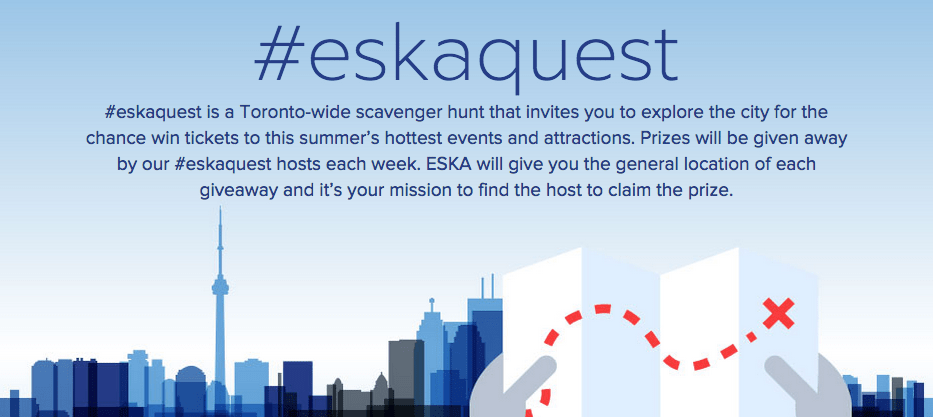 This summer Eska Water is back for round 2 of Eskaquest. Torontonians are invited to explore the city in a Toronto-wide scavenger hunt. This year, ESKA will is teaming up with six Toronto influencers (including me!), and challenging Toronto to 'Find ESKA' for the chance to win tickets and prizes from June 22nd to July 31st.

During the six week campaign,we're each giving away 2 prizes per week. There's two ways to get in the game, follow clues that ESKA releases on social media, or take a peek on the microsite (here), which contains a map hinting at the general location for each giveaway. The first person to successfully find the influencer wins the prize.
Follow Eska for Clues
Follow on Twitter, Facebook and Instagram as we release daily clues to help you find the next #eskaquest giveaway location.
My Eska Prize Giveaways are July 8th & July 11th
Stillwater Spa gift certificate

$300

Dinner for 2 at a Summerlicious restaurant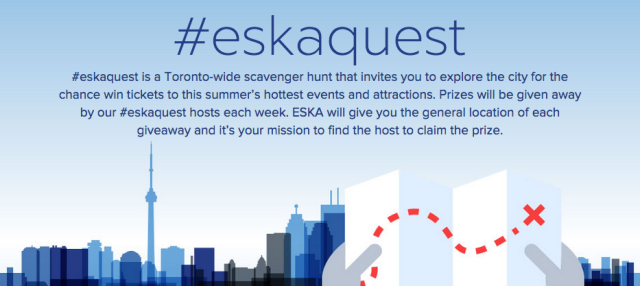 The rest of the Eskaquest crew includes blogger Yashy Murphy, Indie 88 radio host Brent Albrecht, MTV Live alumni Paul Lemieux, Sheena Snively, and  Daryn Jones.
We've planned a really fun giveaway so I'm pretty excited to put the plan in motion. I'll have more details next week! Until then follow ESKA water for another giveaway on Saturday.
CASIE